Fox's Brian Kilmeade Slanders Ilhan Omar: 'You Have to Wonder if She Is an American First'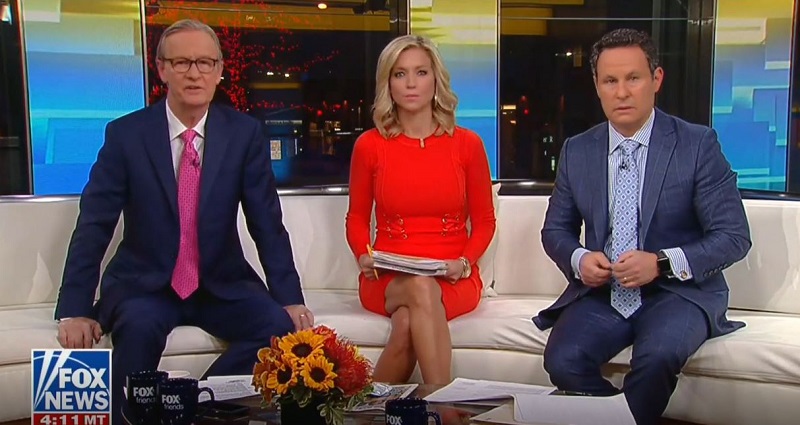 The hosts of Fox & Friends spent a few mintues of their Wednesday morning smearing Rep. Ilhan Omar (D-MN) with a dishonest interpretation of some recent comments by the congresswoman.
Omar was recently speaking at an event put on by the Council on American-Islamic Relations (CAIR). In her remarks, she touched on the threats to the civil liberties of Muslim-Americans that came about in the aftermath of the September 11 attacks, when the entire community consisting of millions of people fell under suspicion and became the focus of government surveillance because of the actions of less than two dozen terrorists. None of whom were citizens of the United States.
Omar described this as "some people did something, and that all of us were starting to lose access to our civil liberties." This is accurate, but it sent the Fox & Friends crew into a frenzy of jingoistic hyperbole.
"She does not describe a terror attack by terrorists on the United States, but 'some people did something,'" howled Steve Doocy. Brian Kilmeade then lectured Omar for not taking a moment to specifically distinguish her own brand of Islam from that of radicalized terrorist organizations. Though it seems pretty clear that Omar was distinguishing between terrorists and the rest of the Muslim American community that suffered in the wake of the attacks.
The crew was so upset they went back to to Omar's comments a second time later in the show, replaying the clip and leading Kilmeade to wonder of Omar "if she's an American first."
This line of attack is strongly reminiscent of Fox News' Jeanine Pirro accusing Omar of not believing in the Constitution and "favoring sharia law" because the congresswoman wears a hijab. Those comments got Pirro suspended from Fox for two weeks.
Watch both video clips above, via Fox News.
UPDATE: Kilmeade tweeted out a clarification on Wednesday afternoon, claiming it was not his intent to question whether Omar is an American.
I didn't intend to question whether Rep. Omar is an American – I am questioning how any American, let alone a United States Congresswoman, could downplay the 9/11 attacks.

— Brian Kilmeade (@kilmeade) April 10, 2019