New York Post Slammed For Ripping Ilhan Omar With 9/11 Cover Photo: 'You Are Pure Trash'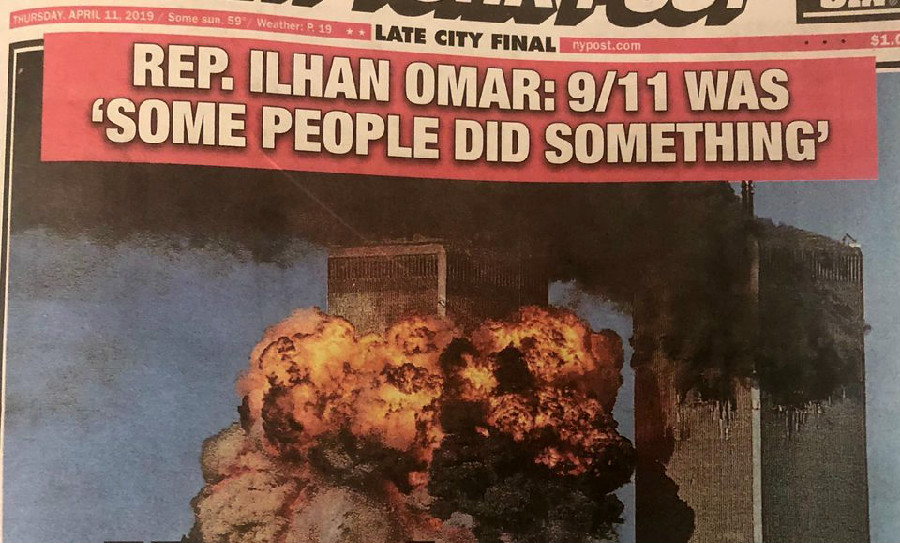 In response to remarks Rep. Ilhan Omar (D-MN) made about the aftereffect of 9/11 at a Council of American-Islamic Relations banquet that has been met with over-the-top conservative backlash, the New York Post poured gasoline on that fire with an extremely provocative cover photo showing the World Trade Center explosion.
Just to recap, Omar delivered a 20-minute speech at a CAIR event last month, a week after a white supremacist gunman killed 50 Muslims in New Zealand. The Democratic lawmaker took the opportunity to call for Muslim activism in the face of growing Islamophobic violence before noting that Muslims were relegated to second-class citizenship following the 9/11 attacks.
She then made the following remarks that drew the ire of right-wingers (emphasis added):
"Here's the truth. For far too long we have lived with the discomfort of being a second-class citizen and, frankly, I'm tired of it, and every single Muslim in this country should be tired of it. CAIR was founded after 9/11 because they recognized that some people did something and that all of us were starting to lose access to our civil liberties. So you can't just say that today someone is looking at me strange and that I am trying to make myself look pleasant. You have to say that this person is looking at me strange, I am not comfortable with it, and I am going to talk to them and ask them why. Because that is the right you have."
Earlier this week, Rep. Dan Crenshaw (R-TX) reacted to his Democratic colleague by saying she was the first member of Congress to "ever describe terrorists who killed thousands of Americans on 9/11 as 'some people who did something.'"
First Member of Congress to ever describe terrorists who killed thousands of Americans on 9/11 as "some people who did something".

Unbelievable. https://t.co/IKtoZWWmIT

— Dan Crenshaw (@DanCrenshawTX) April 9, 2019
This was followed by Fox & Friends host Brian Kilmeade openly wondering whether Omar considers herself an "American first," comments he attempted to walk back on Wednesday afternoon.
Omar, who has been on the receiving end of withering criticism for months now, fired back at Kilmeade and Crenshaw, calling them out for "dangerous incitement" while noting that she's received death threats. She also told late-night host Stephen Colbert Wednesday night that she is "as American as everyone else."
While one would have hoped that this made-up controversy would die down, especially since it is obvious that there was a bad-faith and willful misreading of her comments, the New York Post — owned by Fox News owner Rupert Murdoch — brought us back to reality.
This is the very definition of "dangerous incitement," and a number of journalists, observers and critics pointed that out Thursday morning when the cover came out.
Are Murdoch-owned media outlets – Fox News, the New York Post – trying to get Congresswoman @IlhanMN killed? Genuine question. I mean, this is just astonishing. https://t.co/je5BezrP2E

— Mehdi Hasan (@mehdirhasan) April 11, 2019
You are pure trash @nypost. Those comments were taken out of context and it's an insult to the people who died on 9/11 to do this. Absolutely disgusting, fuck off forever. https://t.co/uJzk4jfpVN

— Alex Leo (@AlexMLeo) April 11, 2019
Started my career at the @nypost….. The @nypost can go fuck itself. https://t.co/H3ejnTNzzR https://t.co/NIIdVqoxFR

— Christopher Mathias (@letsgomathias) April 11, 2019
This is a smear campaign. @nypost cover, below. For context, click this WP link. It shows Omar used the word "some" to distinguish terrorists from "all" Muslims.

For this, self-styled opponents of prejudice have chosen to attack and misrepresent her. https://t.co/MBPt8HMmK0 pic.twitter.com/p8S06Nq4EY

— Will Saletan (@saletan) April 11, 2019
fuck to the New York Post https://t.co/NkxxDt40A0

— Brendan O'Connor (@_grendan) April 11, 2019
The New York Post, Fox News, Sinclair … these are just massive propaganda outlets for conservatives to foment bigotry and spread partisan talking points. There is just nothing comparable on the left.

— Matt McDermott (@mattmfm) April 11, 2019
And the New York Post politicizes 911 with the hopes of "owning" a junior democratic congresswoman from Minnesota. https://t.co/PEPtYbPBFb

— Molly Jong-Fast (@MollyJongFast) April 11, 2019