Fox's Jeanine Pirro Experiences Ratings Bump Following Suspension Over Ilhan Omar Remarks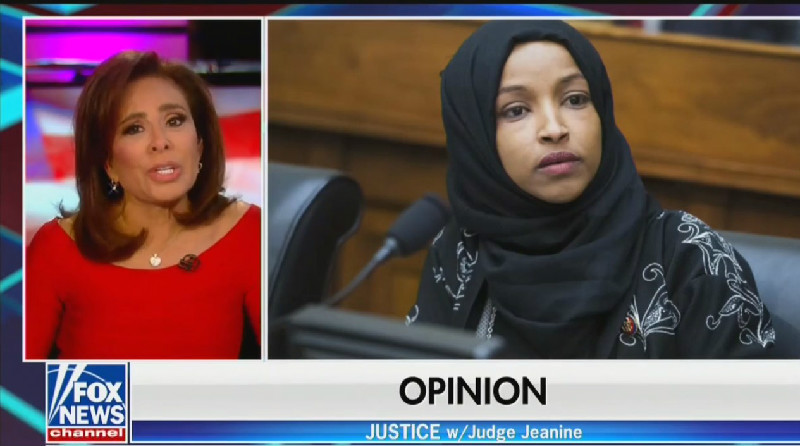 Fox News host Jeanine Pirro has experienced a bit of a ratings bump since returning to the air following a two-week suspension over an on-air monologue in which she expressed doubts that Rep. Ilhan Omar (D-MN) was loyal to America and suggested the Minnesota lawmaker didn't believe in the U.S. Constitution because she wears a hijab.
The pro-Trump Fox News host used her Saturday night show's opening monologue early last month to take aim at Omar for remarks she made about Israeli lobbyists that many charged were anti-Semitic, adding that Omar doesn't get her anti-Semitic views from the Democratic Party but rather from her adherence to Sharia law.
"Think about it," Pirro exclaimed during the March 9th broadcast. "Omar wears a hijab, which according to the Quran 33:59, tells women to cover so they won't get molested. Is her adherence to this Islamic doctrine indicative of her adherence to Sharia law, which in itself is antithetical to the United States Constitution?"
A day later, Fox News released a statement "strongly" condemning the Fox host's remarks and eventually pulled her off the air for two weeks, though the network never publicly acknowledged the suspension. Following her show being yanked, President Trump was incensed that one of his most loyal media defenders had been sidelined, demanding that Fox News bring her back and "stop working soooo hard on being politically correct."
In the three weeks since the Saturday night program returned to the air, Justice with Judge Jeanine has witnessed growth in both total viewership and the key 25-54 demographic when compared to the three weeks prior to the two-week break.
From February 23rd through March 9th, Pirro averaged 239,000 demo viewers and 1.987 million viewers overall. After returning to the Fox News lineup on March 30th, the show has pulled in 2.184 million total viewers and 258,000 in the key demo, marking ten percent bump in total viewership and eight percent in the demographic.
Much of that growth is due to Pirro's return episode, which drew a total audience of 2.563 million and 354,000 demo viewers, as there was quite a bit of interest as to whether Pirro would address the suspension or the comments that resulted in her getting sidelined. (She did not.)
This past week's broadcast, however, also averaged more total viewers (2.208 million) than any of the weeks prior to Pirro's suspension, while drawing 233,000 in the key demo.
While Pirro has enjoyed increased ratings since rejoining Fox's Saturday night lineup, a handful of companies expressed dissatisfaction with her Omar comments and pulled their ads from her program. Those sponsor issues have come on the heels of sustained ad boycotts of weeknight primetime hosts Tucker Carlson and Laura Ingraham.
Those two hosts' programs, Tucker Carlson Tonight and The Ingraham Angle, have continued to generate high ratings amid advertiser backlash, with Carlson recently leading cable news in the key demo and Ingrahm maintaining her spot in the top five most-watched cable news shows.