Trump Campaign Adviser: Ilhan Omar Is to Blame For Increase in Death Threats Against Her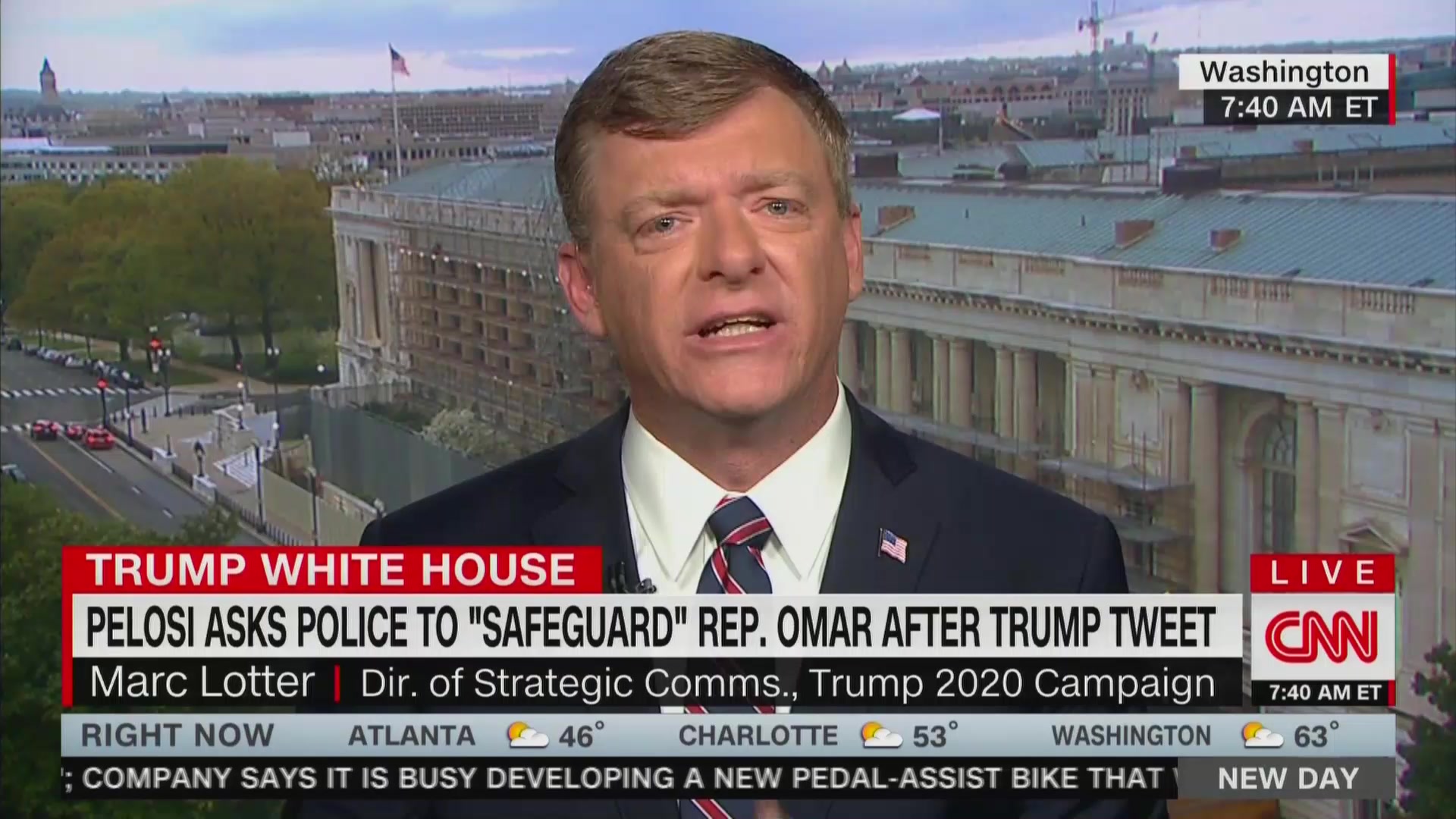 With Rep. Ilhan Omar (D-MN) revealing death threats against her have spiked in recent days following President Trump sharing an inflammatory video targeting her for supposedly diminishing the 9/11 terror attacks, Trump 2020 campaign adviser Marc Lotter defended the president's tweet while claiming the Democratic lawmaker is to blame for the threats.
Weeks after she made a speech at a CAIR event, Omar suddenly became the target of a concerted bad-faith right-wing effort to frame her remarks as being dismissive of the 2001 terror attacks that resulted in 3,000 American deaths. After prominent Republicans took aim at her on social media, Fox News hosts questioned her loyalty to America and the New York Post published a cover photo of the World Trade Center explosion to criticize her, the president tweeted a video of her comments contrasted with images from 9/11.
Appearing on CNN's New Day Monday morning, Trump 2020 strategic communication director Marc Lotter was asked by host Alisyn Camerota if Trump knows "that he's putting her in danger," adding that the Capitol Police are spending extra resources to protect Omar.
"Well, I don't think it's the president who is putting her in danger," Lotter replied. "I think it's her ill-thought-out words that she used to describe the greatest terror attack on the history of United States soil — that which killed nearly 3,000 Americans. The fact that those are her words. That's what's putting — making the threats."
The Trump staffer then shifted gears slightly, perhaps realizing he had just suggested a sitting congresswoman deserved to be threatened.
"But make no mistake," Lotter added. "No congressperson, no American should be threatened and no one is inciting violence. I think what they're doing is showing outrage toward words that should have been better thought out."
Camerota pushed back, asking if the president should take down the tweet considering that many are pointing directly at the post as the impetus for the increased death threats.
"Well, I'm not aware of the president planning to take down that tweet, but I think it's also important that the American people realize that these are the words that are being spoken by leaders of the Democrat party," he answered. "In many cases, you've got Democratic leaders and leading presidential candidates coming out and defending those words."
Pressed again on the matter, Lotter said "I'm not going to tell the president what he should or should not do with his Twitter account" before adding that "it's absolutely appropriate" to call out Omar for her remarks.
Watch the clip above, via CNN.