Maisie Williams Warns Game Of Thrones Fans That "Shit Gets REAL" In Season 7 Script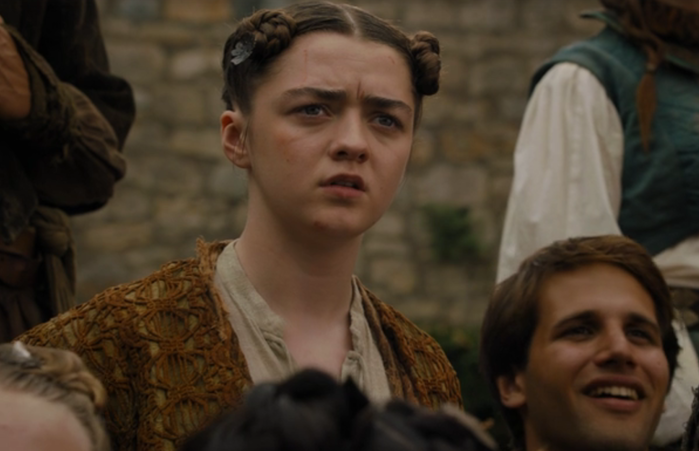 The sixth season of the insanely popular HBO series Game of Thrones concluded this year with an incredible finale. Since then, fans have suffered from GoT withdrawal, urging the next season to get here soon. I'm one of those fans impatiently waiting for Game of Thrones Season 7, and I shared in the collective sadness when it was announced that the next season had been delayed.
But while we have to wait until summer of 2017 to get our GoT fix, the actors and actresses involved in the project already have their hands on the script. Maisie Williams, who portrays needle-wielding badass Arya Stark in the series, took to Twitter recently to give fans a little insight into the new season.
Obviously, she couldn't say anything that could be seen as spoilers, but what she said pretty much confirmed what fans were thinking in the first place- that the next season is full of danger.
i'd start preparing yourselves now

— Maisie Williams (@Maisie_Williams) August 22, 2016
scratch that, nothing will prepare you for this

— Maisie Williams (@Maisie_Williams) August 22, 2016
Williams tweeted out her reactions to the tweet, which ranged from "nothing will prepare you for this" to "shit gets REAL". Judging from the tone, and her use of all caps, I'd say that the script for Game of Thrones Season 7 has Maisie stunned. It definitely has us anxious to know just what in the script has her so floored.
Game of Thrones Season 6 didn't exactly end on a positive note. Sure, Ramsay Bolton is finally gone, the Starks are back in Winterfell, and Dany is finally on her way to Westeros (with an army, three dragons, and some help from Dorne and the Iron Islands no less), but the season ended with massive implications for the next.
There's no denying that a war is definitely coming next season, with Daenerys and her army on their way to battle Cersei and her Wildfire, the world of Westeros will never be the same.
shit gets REAL

— Maisie Williams (@Maisie_Williams) August 22, 2016
With season 7 being the penultimate season, and a short one at that, Game of Thrones looks to be rapidly heading towards its climax. It's possible we won't get a slow moment in Game of Thrones Season 7!
Personally, I'm sad to see the show gearing up to leave. In just two years, there'll be no more Game of Thrones (well, the books, but those are taking way too long). Still, I'd be lying if I said I wasn't excited to see that battle for the Iron Throne come to an amazing, outstanding, and bloody conclusion!
I suppose we'll just have to see how wild Game of Thrones Season 7 is when the series returns next summer. Until then, I'll just keep on rewatching that epic season 6 finale. Maybe if I watch it enough times, I'll unlock the secret ending where Sansa leaves Ramsay alone in a room with Lyanna Mormont (it could happen).