It's The Trump Show With Stephen Colbert and Jon Stewart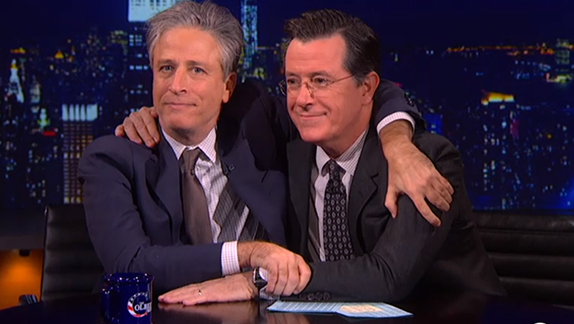 In final proof of the media Trumpocalypse, Jon Stewart is coming back to late night TV. The Late Show host Stephen Colbert has hired Stewart as a correspondent in a role reversal that will delight fans of the original fake newsman and his heir on late night.
Trump has promised the Republican National Convention will be spectacular and star-studded. Several high profile celebrities were floated as possible speakers, including Mike Tyson and Tim Tebow. Trump also claimed he was asked to speak every night of the convention but refused.
Stewart has made some sporadic media appearances since retiring as host of The Daily Show, particularly to support charitable causes. Colbert, who cut his teeth on Stewart's show, has proved a popular late night host. His well-written send-ups of presidential candidates, especially Trump, have drawn comparisons to Stewart's classic shows.
Some tradition-minded Republicans are worried the convention will be turned into a national joke with Trump's team setting the agenda and choosing speakers. Jon Stewart's unexpected return to TV specifically to cover the GOP event will worry local parties and delegates concerned about public mockery.
Many high profile Republicans, including former presidents George H.W. Bush and George W. Bush and former presidential candidate Mitt Romney will not attend the convention in Cleveland. This is an unprecedented snub but is unsurprising in the light of Jeb Bush's recent comments attacking Trump.
The Trump campaign has been a gift for late night hosts like Colbert, Seth Meyers and Samantha Bee. With Trump's bragging about how good the convention will be and the titillating prospect of his formal convention speech, Stewart will have plenty to work with.