Bill O'Reilly Does A Little Trump Cosplay, Calls Into His Own Show To Bitch About Obama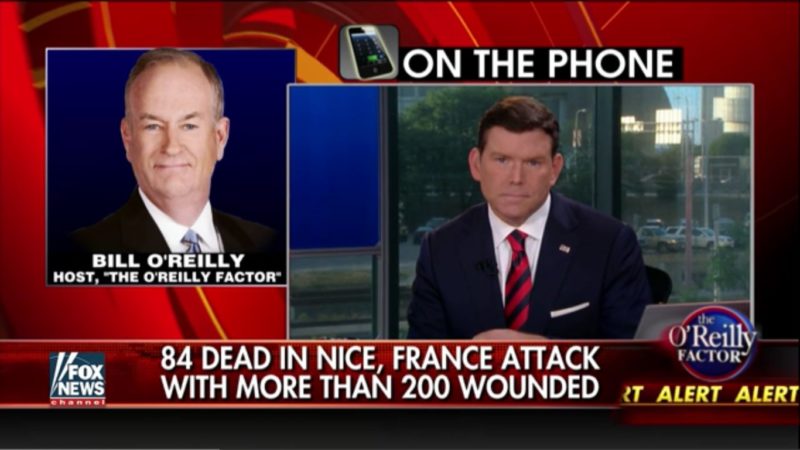 It appears Bill O'Reilly has taken his Trump idolatry to new heights.
Though given the night off hosting his Fox News show, Bill-O picked up the phone and called into The O'Reilly Factor and guest host Bret Baier Friday night. Echoing the scene we witnessed the night before when Donald Trump called in to discuss the Thursday night terror attack (which now might not be radical Islamic terrorism after all) in Nice, Papa Bear did a phoner with his own fucking program.
And, just like how the Trumpster spends much of his time railing on Obummer, Bill linked POTUS to not only the attempted coup in Turkey, but also to Newt Gingrich making a gotdamn fool of himself the night before.
Relating to Gingrich's rant about how the United States needs to deport American Muslims who believe in Sharia, which he later attempted to backtrack after everyone called him a fuckin' Nazi, O'Reilly told Baier that President Obama "distorted" the former House Speaker's remarks. (Y'know, by quoting him.)
"I think the speaker overdid it a little bit, because, you know I always go back to the fact that you can't single out any religion under our Constitution for scrutiny. So I — you know, the sentiment is correct, I mean, Sharia law is not compatible with the United States, and the constitutional freedoms that we have, alright? We all know that.
But we have tolerated in this country communism, fascism, we have tolerated all of that, and I don't think you can basically say well, we are going to give every Muslim a test, to see if the Muslim passes the test.
And then it gets political. I think President Obama distorted the remarks and tried to, you know — he obviously knows that Gingrich is part of the Trump campaign, and part of the Democratic strategy is to demonize Trump as this guy who is going to come after minorities, Muslims, Mexicans, gays, whoever it may be. So, I didn't like either the speaker's remarks or the president's remarks."
Whenever a conservative makes a batshit crazy statement, like Gingrich did, make sure to criticize both sides for it, so it fully eliminates what the right-winger said. Also, you gotta love how the ex-Inside Edition host pointed out that Newt only "overdid it a little bit" but his heart was in the right place.
O'Reilly also had to weigh in on the ongoing military coup in Turkey. With the Middle Eastern country, and American NATO ally, in the midst of President Erdogan potentially being overthrown, Bill knew just who to point the finger at.
"The Middle East is now in an uproar…this is what happens when the United States steps back and tries to become one nation of many and doesn't lead.
…
We're in a war against radical Islam and this kind of stuff makes it more difficult to fight that war."
First and foremost, it is pretty apparent that O'Reilly was just winging it here, just using well-worn tropes to cover over the fact that he had absolutely no idea what was going on. If you are a proponent of secularism and Western-style government in the Middle East, like Bill-O proposes to be, then you'd be rooting for those leading the coup, as the are alleging their motives are to stay true to Ataturk's reforms.
Yet, if as a cable news host, you've built a narrative that Obama is weak and everything bad that happens in the world is directly due to his fecklessness and Islamic sympathies, then you gotta stick with the script. And that script calls for Obummer-bashin'.
Anyway, if you wanna watch Bill O'Reilly emulate his milkshake buddy, the video is below via Fox News: