Despite All The Controversy, Donald Trump Hosting 'Saturday Night Live' Was A Boring Dud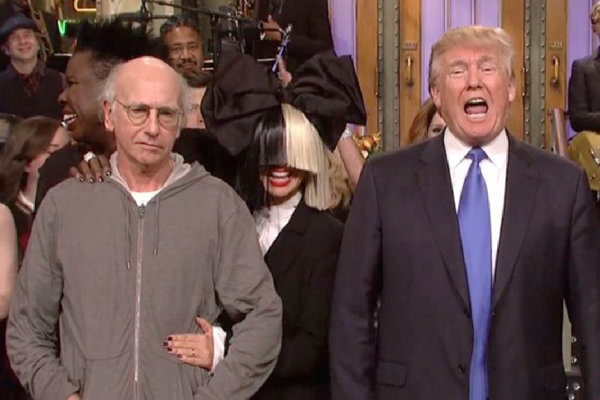 When you are someone who feeds off media attention and self-made controversy like Donald Trump, the worst thing that can happen to you is for you to be labeled boring. Yet, that is what occurred in the immediate aftermath of Trump's overhyped appearance on Saturday Night Live, where the Republican Presidential candidate hosted the sketch comedy show despite protests from Hispanic groups. SNL creator Lorne Michaels also faced criticism in the run-up to the broadcast for allowing a political candidate to use his show — one that should be skewering politicians, not celebrating them — as another prop in his campaign.
Outside of a decent cold open that poked fun at MSNBC's Friday night Democratic forum and featured the return of Larry David's Bernie Sanders impersonation, the rest of the episode fell flat. The show tried to address the controversy over Trump's appearance during his monologue as David stood up in the crowd and yelled "Trump's a racist!". This was in response to a political organization offering $5,000 to anyone in the audience or cast disrupting The Donald during the live broadcast. However, outside of that moment and a somewhat inspired 'Drunk Uncle' skit during Weekend Update, the show was a yawner.
The issue appears to be that the regular cast just didn't know how to play alongside Trump, either out of an uncomfortableness with him in general or due to his stiff performance in the sketches he appeared in. Much of this could be that Trump likely vetoed any skit that he felt would have made him look bad, leaving the team of writers and players to make due with second-rate ideas. One such sketch that went on FOREVER dealt with Trump live-tweeting insults at the cast members while they participated in a skit involving an Italian restaurant. While the idea itself isn't bad, the issue at hand is that the tweets themselves were just not funny.
Critics across the nation also felt that the episode sucked ass. Writing for the Washington Post, Hank Stuever called the show an "overhyped bummer for us all" and ripped SNL for the stunt casting and the fact that Trump will undoubtedly use the show's ratings bump to prove that he deserves to be elected, since ratings are all that matters to him.
Once upon a time, not so long ago, there might be a lesson to learn from Saturday's boring and misspent episode — but that world no longer exists, certainly not where politics and TV intersect. Everything's turned upside down. Bring back the old America, I say, the one where our preeminent vehicle for topical satire would have ably skewered a hateful, nonsensical, vainglorious presidential candidate, rather than invite him into the club and give him more of the empty-calorie media attention he seeks.
Having Trump host "SNL" is a tacit nod of approval — of his message, his antics and, yes, his campaign to be the Republican presidential nominee. Worst of all, it provided Trump with more dubious evidence of his own preeminence. When and if boffo ratings reports come out Sunday, he will promote them as proof of his electability, rather than as evidence that anyone will slow down to gawk at a car wreck. (Never mind the fact that overnight TV ratings are fast becoming an unreliable insight into American cultural sensibilities; Trump still regards them as the gold standard of existence.)
Meanwhile, Vox stated that Trump seemed both "stiff" and unfunny.
All of the anger surrounding the episode might have fallen away if it were funny, but it simply wasn't. The sketches fell dead. The actors seemed checked out. Trump has clearly not been taking comedy classes in between campaign appearances.
In many ways, this is the worst possible outcome for everybody but NBC — which will likely see huge ratings thanks to curious viewers who dropped in for the episode. All told, SNL endured weeks of protest, culminating in threats of boycotts, for one of its weakest outings in ages (and this is a show that's had plenty of weak outings). If Trump sees some sort of polling boost as a result, it will be truly inexplicable. He didn't seem funny or approachable or even ornery. He mostly seemed stiff.
Variety's Maureen Ryan criticized Trump for his poor cue card reading ability and the cast's poor chemistry with the former reality TV star.
An early sketch took place in a future Trump White House, where Omarosa Manigault from "The Apprentice" reported that Trump's comments about Putin had made the Russian leader cry. The Syria problem had been solved by giving refugees jobs in a Damascus casino owned by Trump. Trump's daughter, Ivanka, turned up to report on White House renovations, and Cecily Strong played Trump's wife, Melania.
It's pretty standard for a host to read most of his lines off cue cards, as Trump did stiffly in all his scenes, but when the rest of the cast appears ill at ease and many of the jokes fail to land, the sketches can seem interminable. And when the funniest joke in a particular sketch has Trump thanking the president of Mexico for turning Telemundo into an English-language network, something has gone awry.
Overall, this will be a completely forgettable episode of SNL, and hopefully the cast and crew can move on from it. Trump will likely pound his chest about the ratings while conveniently ignoring the universally poor reviews of his performance. One concern for NBC and Saturday Night Live, though, is if they can make amends with their Hispanic audience. Besides the protests in front of 30 Rock and online petitions calling for Trump to be dropped, a number of well-known Latinos vowed to never watch the show again. Will that carry over to a larger portion of the Hispanic population?