Republican Who Supported Texas Lawsuit Disputes Lack of Evidence of Voter Fraud: 'I Don't Have Proof that Men Landed on the Moon'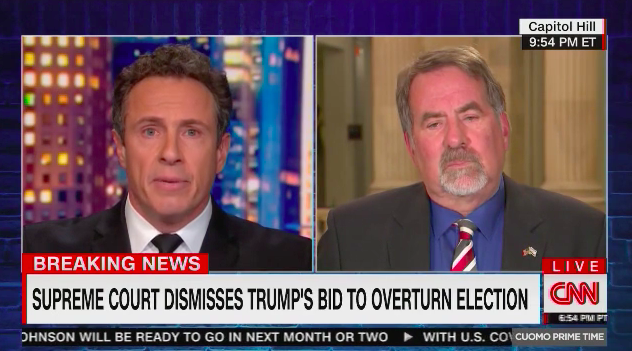 A Republican who sided with Texas in its lawsuit to nullify the presidential election results in four states won by President-elect Joe Biden went on CNN Friday night to discuss the unfounded accusations of voter fraud that many in his party have made.
First, host Chris Cuomo asked Rep. Ray LaMalfa (R-CA) whether he accepted the Supreme Court's decision to not hear Texas's lawsuit.
"Well, certainly this is a setback for the case that was being made by Texas, and you know, it really boils down to there's a lot of things being said about it," LaMalfa replied vaguely.
When asked if he accepted Biden as the president-elect, LaMalfa responded in a similar fashion.
"Well, we still don't know what the intelligence folks have in there," he blurted out, alluding to nothing specific.
"Come January 20, if he's got his hand on the Bible and doing that then I guess we'll accept it at that point."
Cuomo then pressed the congressman on his unsubstantiated claims of voter fraud.
"You got any proof that anything was done fraudulent in any election?" he asked.
"You know, I don't have proof that men landed on the moon, because I was not there," LaMalfa said, prompting an exchange in which Cuomo asked him again if he could provide evidence for his claims.
"I have not been in a courtroom to look at the proof myself," LaMalfa said. "I see it on the news, I see it in reports and my colleagues and I look it over. So, I guess if I'm not holding it myself, does that qualify me or not? I have to believe what is out there, the documents that I have been able to look at."
LaMalfa later added that Trump's lawsuits being thrown out in states nationwide because his lawyers failed to show evidence of fraud is a "tough deal" because "they have done it in a compressed amount of time," implying that if there were no deadlines then they would be able to make a convincing case.
LaMalfa also claimed that there are "a lot of people…who feel like there is a lot of funny business with this election."
Cuomo shot back: "That's because you keep telling them there's funny business with the election without proof."
Watch the video above, via CNN.