OPINION: ABC News Pointlessly Interviews Trump-Supporting Election Deniers, Coronavirus Skeptics Despite Biden Win, Nationwide Case Surge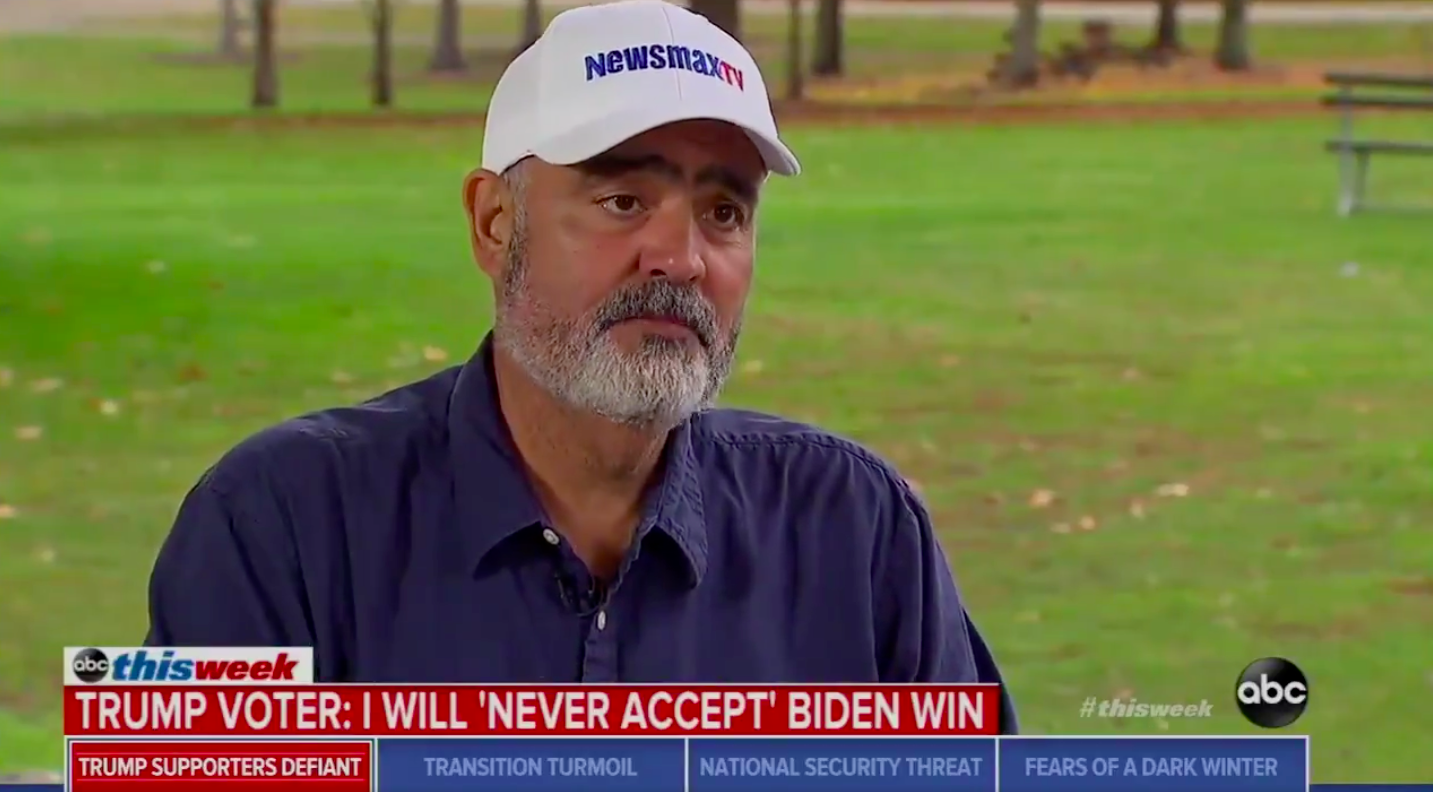 ABC's This Week on Sunday aired discussions with several supporters of President Trump and skeptics of best practices to prevent the spread of the coronavirus. The reason, it seems, was to provide a so-called "balanced" narrative since host Martha Raddatz would go on to speak with two experts on the pandemic. But how could this approach even work if one group denies reality?
Raddatz asked one man in a white Newsmax hat whether he wears a mask.
"No," he said. "I just don't believe in them." That same man later said "no" when Raddatz asked the group of three if they believed the scientists regarding the pandemic.
Another criticized the effectiveness of masks and whether they can help stop the spread of particles to and from one's mouth. "I really doubt it," he said.
The next eight minutes featured a discussion between Adm. Brett Giroir, the U.S. Assistant Secretary for Health and a member of the White House Coronavirus Task Force, and Dr. Atul Gawande, who was just named to President-elect Joe Biden's Coronavirus Advisory Board. This Week's segment on the pandemic could have just begun here and no value would have been lost.
At another point in the broadcast, Raddatz asked the Trump supporters about the presidential election results and whether they actually thought Trump won.
ABC's This Week continues to spotlight and platform Trump voters yet again who say things like "For me to believe that Joe Biden got 78 million votes … I find that very hard to believe" and "it's never gonna be accepted." pic.twitter.com/p0yID5oLX9

— The Recount (@therecount) November 15, 2020
"Absolutely I do," one man said, adding that he found Biden's vote total "very hard to believe."
Another said a Biden win "is never going to be accepted."
The real question is why should we accept individuals who say they don't believe in things that are true appearing on national news shows of this caliber?
Just yesterday, Fox News host Pete Hegseth said he doubted an accurate report on voter fraud right after he read it from the teleprompter. Those who deny Biden's victory or the effectiveness of masks during a pandemic are taking their cues from public figures like him, so a better arrangement would be for their incorrect opinions to be amplified by that network or others like it, if they have to be amplified at all.