Lou Dobbs Urges South Carolinians to 'Tune Out' Lindsey Graham, Who Has 'Betrayed' President Trump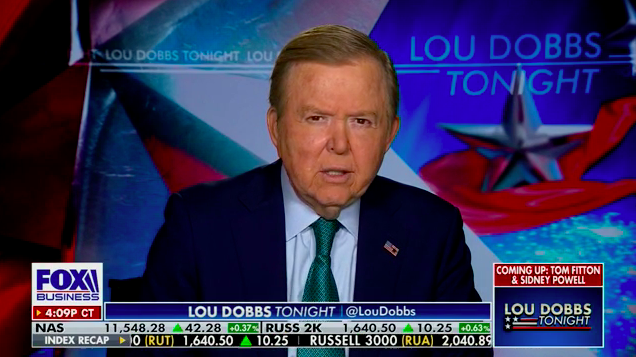 Fox Business host Lou Dobbs criticized Sen. Lindsey Graham (R-SC) on Friday, claiming the senator has let down his constituents and President Trump by not acting more aggressively on issues like social media "censorship."
Dobbs, a frequently over-the-top defender of the president, mocked Graham for a recent statement he gave on plans for the heads of Facebook and Twitter to testify before Congress after the election.
"I don't know why anyone in the great state of South Carolina would ever vote for Lindsey Graham. It's just outrageous," Dobbs opined. "This is the guy who keeps saying, 'Stay tuned.' He said he would get to the bottom of 'Obama-gate' with the [Senate] Judiciary Committee, which has been a year and a half — actually longer — of absolute inert response to these pressing issues of our day."
As Dobbs said this, the Fox Business chyron claimed that Graham "sells out Americans." Dobbs then played back President Trump's words against him in 2016.
"Graham has betrayed President Trump at almost every turn," Dobbs continued. "He has betrayed the American people and his oath of office. He's done absolutely nothing to investigate 'Obama-gate' except to tell everyone, 'Stay tuned,' time and time again. 'Stay tuned.' Senator Graham needs to be tuned out in South Carolina."
Graham is in the final stretch of a competitive reelection campaign against Democratic challenger Jaime Harrison, and has periodically appeared on Fox News to ask for donations.
Watch the video above, via Fox Business Network.