Ronna McDaniel: History Will Look Back on Trump 'Well' for His Handling of Pandemic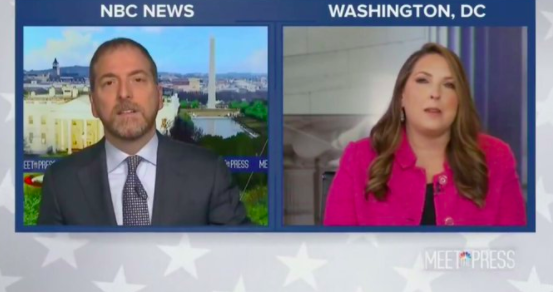 RNC Chairwoman Ronna McDaniel defended President Trump's response to the coronavirus pandemic during an appearance on Meet the Press on Sunday.
Chuck Todd brought up the tapes of Trump talking with Bob Woodward in which he admitted to downplaying the dangers of the virus. Citing the president's remarks about the Central American caravan years ago as an example, Todd mentioned that Trump "isn't a president who shies away from trying to incite panic or trying to fire folks up."
But McDaniel claimed that if Trump had not acted the way he did, "it would have been a run on the banks, it would have been a run on the hospitals, it would have been a run on the grocery stores."
Trump, she continued, "was calm and steady in a time of unrest and uncertainty, and I think history will look back on him well as to how he handled this pandemic."
Perhaps McDaniel has not read the investigation from The Washington Post which details how the administration failed to get a handle of the virus during its early stages.
Watch the video above, via NBC.