Following The Midterms, Fox News Completely Drops Its Fearmongering Over The Caravan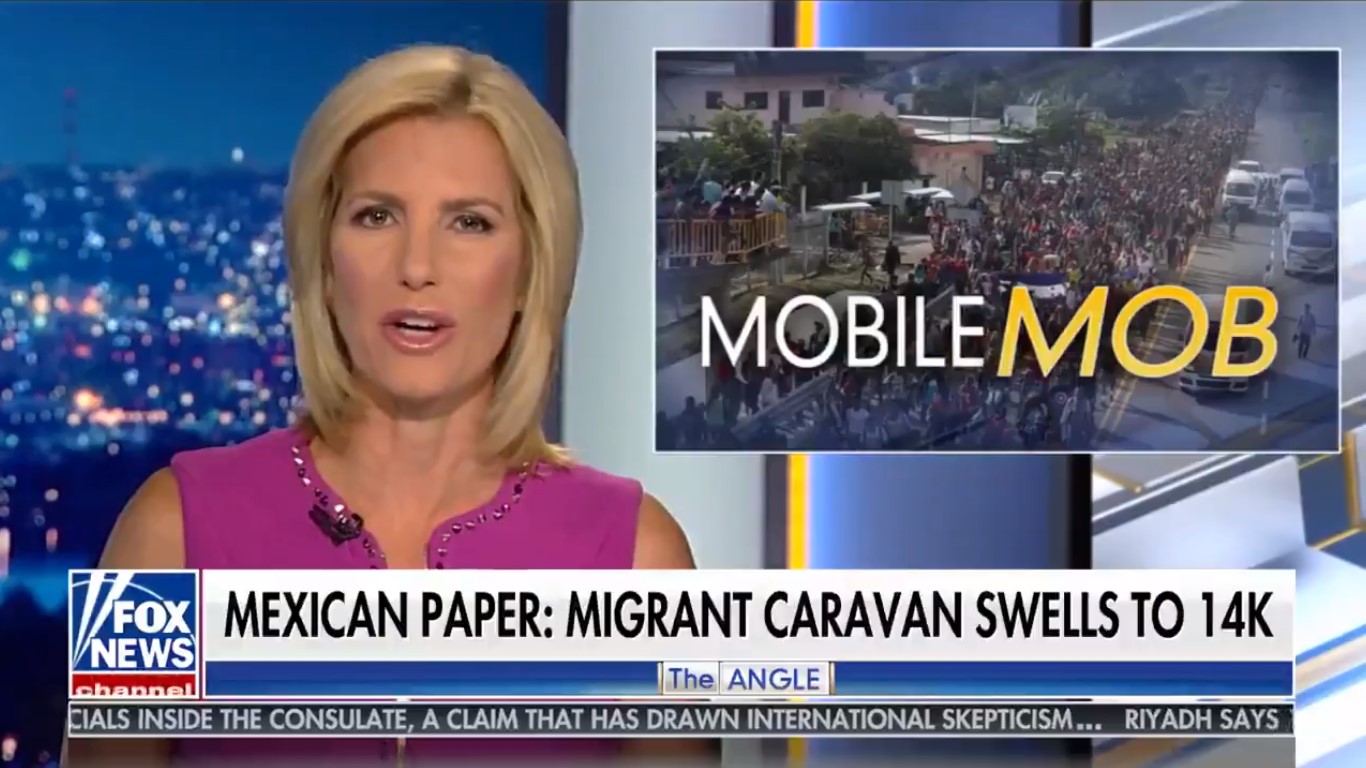 In the run-up to Tuesday's historic midterm elections, President Donald Trump and his faithful loyalists at Fox News teamed up to breathlessly fearmonger over a slow-moving caravan of Central American refugees making its way through Mexico. While the president mobilized thousands of troops to the southern border to confront migrants that wouldn't arrive for months, programs like Fox & Friends and The Ingraham Angle described the caravan as an "invasion" and "mobile mob."
While it seemed to many (most?) that this was all a transparent attempt to scare older white conservatives to the polls by stoking fear of an invading brown horde, one would have thought that Fox would have kept up the charade a day or two after the election in order to not make it so obvious. But, nope.
In an analysis of transcripts via TVEyes from Wednesday morning through Thursday early afternoon, the word "caravan" has only been mentioned on Fox News 17 times. And the vast majority of those mentions have been in the context of the contentious exchange between CNN's Jim Acosta and Trump. (Acosta questioned the president about calling the caravan an invasion.)
On top of that, there have been no panel discussions or segments devoted to the subject since Wednesday morning. Nothing on F&F. Nothing on Ingraham. Nothing on the other primetime opinion shows.
The network also has had a reporter, William Le Jeunesse, embedded with the caravan since October 21st. Prior to the election, they aired dispatches from him detailing the progress they've made through Mexico. Since Election Day — nothing.
So how saturated was the network's coverage before the election, which saw Democrats take over the House and pick up at least 35 seats? According to Media Matters' Lis Power, the word "caravan" was mentioned 310 times on October 23rd and 204 times a week before Election Day.
Mentions of the word 'caravan' on Fox News:

10/23, the height of the network's coverage — 310 mentions
10/31, ~ a week before Election Day — 204 mentions
11/7, day after the election — 16 mentions

(almost all the 11/7 mentions were segments about Jim Acosta at the presser)

— Lis Power (@LisPower1) November 8, 2018
Again, one would think if the migrant caravan was really the national security threat that Trump and Fox made it out to be, we'd get at least some updates this week. Especially when Fox hosts and guests were warning that the refugees were bringing a plague with them. But the network pushing it to the side now that the election is over gives up the game.
Sorta like when we had the great Ebola panic of 2014, right?