Trump More Interested in Protecting 'Long-dead Confederate Traitors' than Americans Today, Ex-Bush White House Adviser Says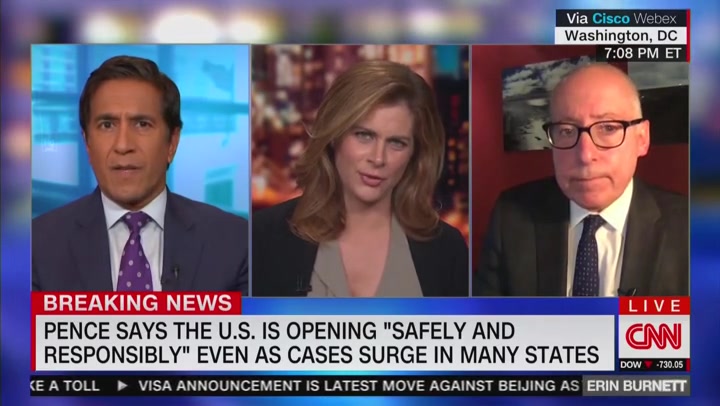 A former White House medical adviser during the George W. Bush administration criticized President Trump's response to the coronavirus pandemic while also calling out Vice President Pence's Friday press conference on the subject.
Dr. Jonathan Reiner told CNN's Erin Burnett that Trump's absence from the coronavirus task force meeting earlier in the day showed where his priorities lie, since he spent that time tweeting about monuments to Confederate figures.
"The president in that tweet about the monuments seems to be more interested in protecting long-dead Confederate traitors than he is in protecting Americans right now," Reiner said, pivoting to what he called Pence's "sycophantic" press conference.
"I was really appalled when the vice president today said, well, 'We've all heard the encouraging news.' The encouraging news, really? There have been 125,000 funerals. It's the equivalent of three jumbo jets of Americans crashing every day, and we hear, 'we've all heard the encouraging news.'"

"What I want to hear is the plan to fix this," Reiner continued. "The plan is social distancing, universal face masks, ramping up testing, and selective closing of municipalities when the virus is surging. That's the plan, and that's what our leaders should be saying to this public, not, 'We've all seen the encouraging news.' I'm really tired of this sycophantic bout."
Pence on Friday said that Americans should resort to "hope and prayer" to get through the pandemic and downplayed the risk that comes with holding indoor campaign rallies like the one the president held in Oklahoma last week. Pence also refused to say that Americans should wear masks, instead deferring to state and local guidelines.
Watch the video above, via CNN.