Trump Targeting Juror In Roger Stone Trial 'Is Really Beyond the Pale,' CNN Legal Analyst Says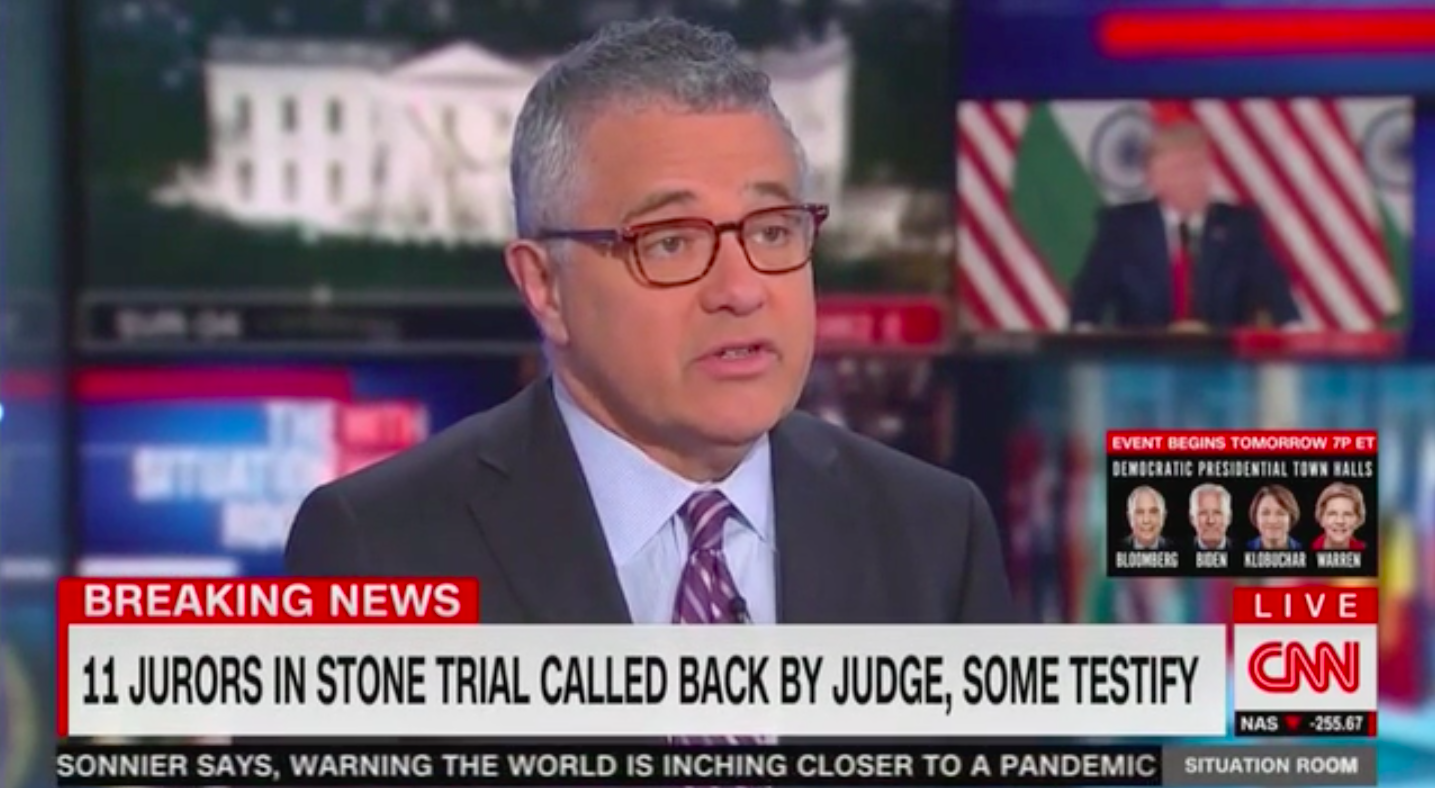 CNN legal analyst Jeffrey Toobin on Tuesday criticized President Donald Trump's targeting of the forewoman in the trial of former Trump adviser Roger Stone.
Stone, who was given a forty month sentence for lying to Congress and threatening a witness, is demanding new trial, alleging political bias on the part of the jury forewoman.
Toobin said on CNN's The Situation Room that Trump's move was "outrageous."
"Jurors are not public figures. They have no forum to be able to defend themselves," Toobin said. "That, to me, is really beyond the pale."
U.S. District Judge Amy Berman Jackson called jurors in for questioning Tuesday during which the forewoman denied lying in a pre-trial questionnaire about whether she had posted anything on social media about Stone or the Russia investigation.
There has rarely been a juror so tainted as the forewoman in the Roger Stone case. Look at her background. She never revealed her hatred of "Trump" and Stone. She was totally biased, as is the judge. Roger wasn't even working on my campaign. Miscarriage of justice. Sad to watch!

— Donald J. Trump (@realDonaldTrump) February 25, 2020
Norm Eisen, Democratic counsel during Trump's impeachment, said that Jackson "is right to speak out against" Trump's comment.
"One of the hallmarks of this president is his disregard for the rule of law," Eisen said. "This kind of behavior of attacking a juror before the hearing is completed, before we have the evidence on what the juror has or has not done and attacking one of the most respected judges in the country in a way that's caused so many to come to her defense…is wrong."
Jackson noted that there is a "a specific and significant interest" in protecting jurors from intimidation and harassment, adding that failing to do so "can have a significant chilling effect" on members of the general public who are summoned to jury duty.
Watch the video above, via CNN.