He's 'Great': Dershowitz Defends Patting Pompeo on Back After Trump Praised His NPR Attack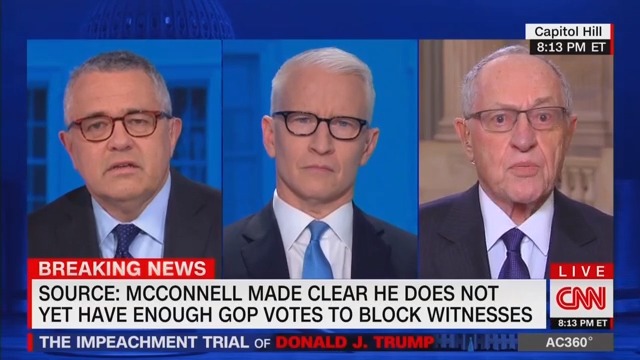 Famed attorney Alan Dershowitz on Tuesday night defended his congratulatory pat on Secretary of State Mike Pompeo's back after President Donald Trump praised Pompeo for berating an NPR reporter, saying he just wanted to "show support" for a "great" secretary of state.
"I think you're reading too much into that," Dershowitz insisted. "I have patted him on the back a dozen times when we talked about the Middle East. So that's what my pat was intended to encourage."
"Just at that precise moment?" Toobin wondered aloud.
"If he's being attacked and he's being criticized, I want to show my support," Dershowitz continued. "He's a great secretary of state and has done great things for the peace process in the Middle East. If he can help to bring about peace in the Middle East I'll forgive him his rudeness to a reporter."
Read the rest of the piece at The Daily Beast.
Watch the clip above, via CNN.