Mike Pompeo: America's Safer After Iran Attack But There May Be a 'Little Noise' in the Interim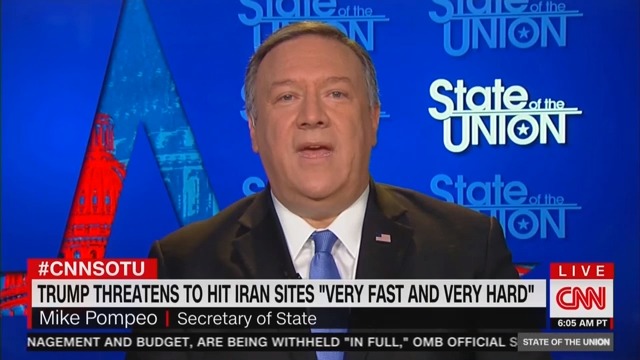 Days after President Donald Trump ordered an airstrike in Baghdad that killed top Iranian general Qassem Soleimani, Secretary of State Mike Pompeo hit all five Sunday shows to address his assertion that the assassination was necessary to avert an "imminent attack" on America and the president's threat to target Iranian cultural sites.
After Pompeo said he was confident that the world was safer now, Meet the Press anchor Chuck Todd asked how he squared that with the State Department's advisement to American's in the Middle East to evacuate due to the likeliness of retaliation
"Chuck, you're concentrating on the second and the moment," the secretary answered. "President Trump is focused deeply on keeping Americans safe over the long haul…It may be that there's a little noise here in the interim."
WATCH: @chucktodd presses @SecPompeo on his statement that America is "absolutely" safer today after the killing of Soleimani.

"We do expect retaliation on American citizens, correct?"

"It may be that there's a little noise here in the interim." #MTP #IfItsSunday pic.twitter.com/xYqM7ZYFOd

— Meet the Press (@MeetThePress) January 5, 2020
Read the rest of the piece at The Daily Beast.
Watch the clip above, via NBC News.