Roy Blunt Evades Questions on Trump's Ukraine Call, Repeatedly Criticizes Obama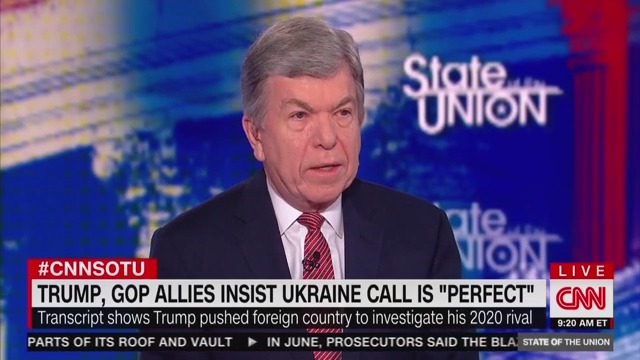 Sen. Roy Blunt (R-MO) appeared on CNN's State of the Union on Sunday to discuss the upcoming trial of President Trump and House Speaker Nancy Pelosi's decision to hold the articles of impeachment in the House until she gets a sense of how the Senate will conduct the affair.
Also on the table was the main reason for the impeachment: President Trump's July 25 call to his Ukrainian counterpart in which he asked for an investigation into a political rival. Host Dana Bash asked Blunt four times if the call was appropriate or if the president made a mistake, but Blunt refused to give a direct answer each time, instead faulting Trump's predecessor.
"Well, at the same time you had the Attorney General asking leaders of other countries to help them look into the 2016 elections," Blunt responded when first asked. After Bash repeated the question, Blunt began talking about what other people thought about the call.
"The president and the Secretary of State and the retired lieutenant general who is a foreign policy adviser all feel like that call was within—"
"What do you think?" Bash interrupted. "What does Roy Blunt think?"
"I think I've never been very happy with any of the Ukraine decisions since the Russians invaded Crimea," Blunt said. "We told President Obama in December of 2015 to provide lethal aid, which he never did. I've never been happy with the way any of this has been handled regarding Ukraine, so we're trying to do what we can now to be helpful."
Bash then recalled comments by some of Blunt's Republican colleagues who said they found the call troubling or regrettable.
"Any other president would have said, 'I'll have the Attorney general call you about some things we are looking into,' and this one didn't," Blunt explained.
"Did [Trump] make a mistake?" Bash asked yet again.
"The president makes mistakes, and I don't know if this call is a mistake but I think there were plenty of mistakes made by both President Obama and President Trump regarding Ukraine and how to deal with Russian aggression in Ukraine and…how to deal with Russian aggression in our elections."
Apparently this was the most detailed Blunt was willing to go: a vague critique of Trump sandwiched in between claims that Obama made mistakes as well.
Watch the video above, via CNN.