Another Senator Attacks McConnell: 'I Don't Know How' He Could Take Oath to Be Fair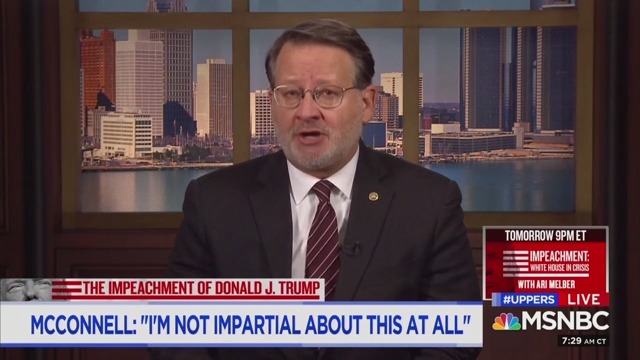 Sen. Gary Peters (D-MI) joined several of his colleagues in admonishing Senate Majority Leader Mitch McConnell (R-KY) for saying that he would not be an impartial juror in an impeachment trial of President Trump, and that there is "no chance" he is removed from office.
Peters, appearing on MSNBC's Up with David Gura on Saturday, doubted whether the Kentucky Republican could in good faith take the oath required of all senators because of his prior comments.
"When I heard Leader McConnell say that, it is unbelievable because we will…take an oath that we will be impartial and have impartial justice as we move forward," Peters said. "This is very serious and solemn."
There is no specific oath that senators must take, but those used for past impeachments included the phrase "impartial justice."
Sens. Kamala Harris (D-CA) and Chris Coons (D-DE) are among those who have said McConnell is already violating the oath.
"I don't know how Leader McConnell will raise his right hand take an oath," Peters said, adding that it is "important [that] we continue to press for rules in place [so] that this is fair and as much as possible an impartial and nonpartisan trial."
Watch the video above, via MSNBC.