President Trump Impeached for Abuse of Power, Obstruction of Congress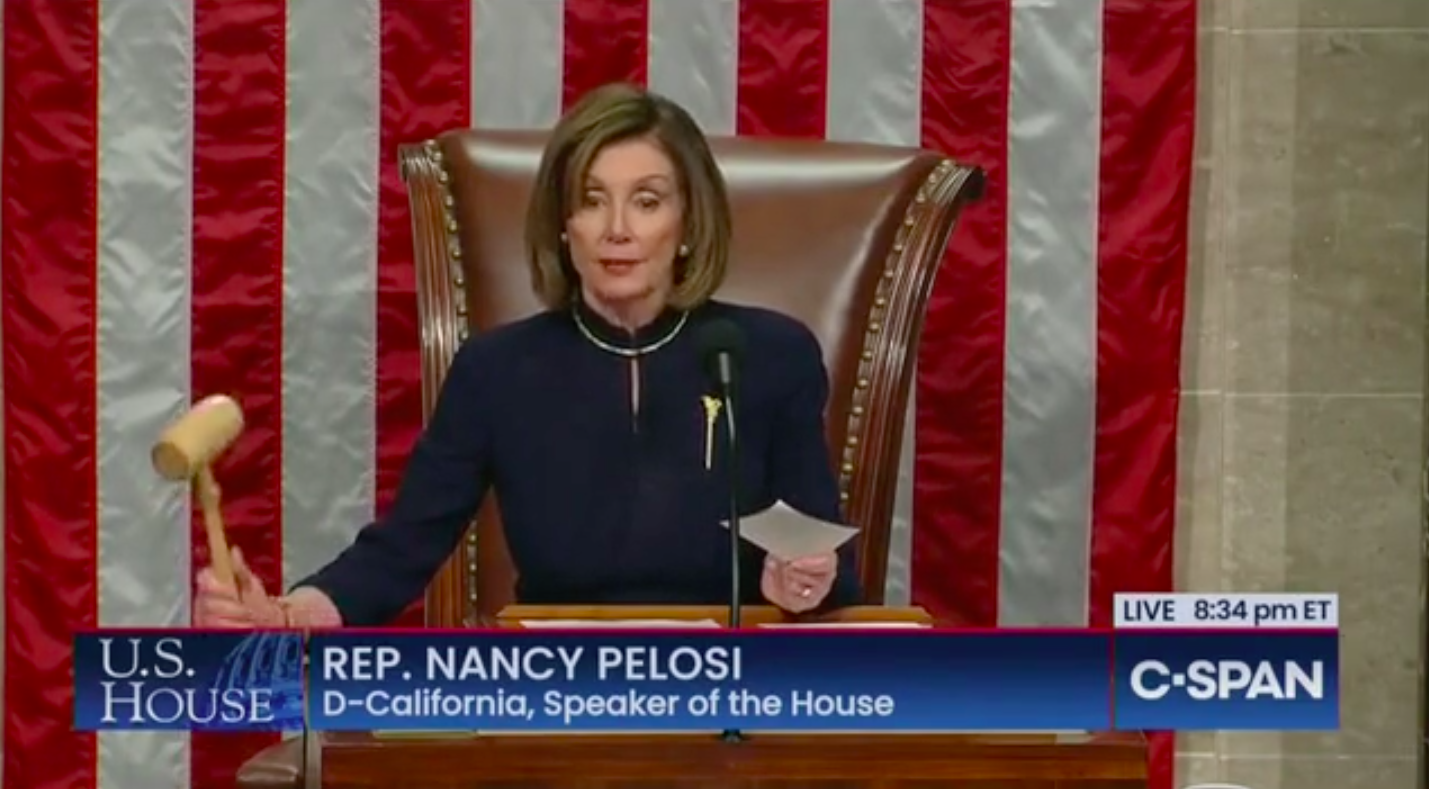 On his 1,063rd day in office, President Donald Trump became one of only three commanders-in-chief to be impeached.
The House of Representatives on Wednesday evening adopted two articles of impeachment alleging abuse of power and obstruction of Congress. As expected, the vote for each article fell largely along party lines, with a final count of 230 to 197 for the former charge and 229 to 198 for the latter.
Rep. Jeff Van Drew (D-NJ) and Rep. Collin Peterson (D-MN), each of whom represent districts Trump won in the 2016 presidential election, voted against both articles. Jared Golden (D-ME) voted against Article II.
Rep. Justin Amash (I-MI), an Independent who had left the GOP this summer, voted in favor of both articles.
Not a single Republican voted for either article.
The articles, packaged together in House Resolution 755, were written by the Judiciary Committee after consulting evidence gathered by the Intelligence Committee, which heard from twelve witnesses whose testimony helped shed light on Trump's withholding of nearly $400 million in military aid to Ukraine and a White House meeting with President Zelensky in order to pressure him to announce an investigation of former vice president Joe Biden and his son, Hunter Biden, as well as a probe of an unsubstantiated theory propagated by Russia that Ukraine conspired with Democrats to interfere in the 2016 election.
Because of these findings, Article I states, Trump "abused the powers of the Presidency by ignoring and injuring national security and other vital national interests to obtain an improper personal political benefit." In so doing, he "betrayed the Nation by abusing his high office to enlist a foreign power in corrupting democratic elections."
Furthermore, as information regarding the Ukraine matter became public, the president sought to prevent Congress from investigating it by directing the White House, other Executive Branch agencies and current and former Executive Branch officials to defy lawful subpoenas.
This, according to Article II, constitutes an unprecedented effort by Trump to cover up his "own repeated misconduct and to seize and control the power of impeachment — and thus to nullify a vital constitutional safeguard vested solely in the House of Representatives."
Because of these actions, the resolution concludes, Trump "has demonstrated that he will remain a threat to the Constitution if allowed to remain in office, and has acted in a manner grossly incompatible with self-governance and the rule of law."
A Senate trial is expected to commence in January, with 67 votes required to remove Trump from office.