Rudy Giuliani Confesses to Fox News: 'I Forced' Yovanovitch Out of Ukraine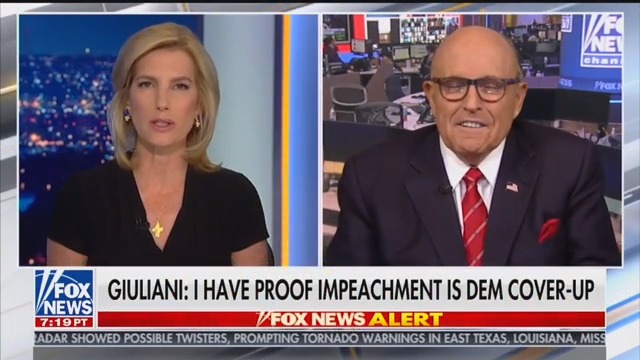 Trump attorney Rudy Giuliani doubled down on his admission that he was instrumental in getting former U.S. Ambassador to Ukraine Marie Yovanovitch removed from her post, boasting during a Monday night Fox News interview that "of course" he forced her out as ambassador.
In a recent interview with the New Yorker, Giuliani—who is a central figure in President Donald Trump's impeachment—confessed that he saw Yovanovitch as an obstacle impeding his ability to dig up dirt on Democratic presidential contender Joe Biden. "I believed that I needed Yovanovitch out of the way," he told the magazine. "She was going to make the investigations difficult for everybody."
During their Monday evening interview, Fox News host Laura Ingraham asked Giuliani—fresh off his brazen Ukrainian trip to gather fresh dirt on Biden—why he needed Yovanovitch gone, especially considering he was just the president's personal attorney and not a government official.
Read the rest of the piece at The Daily Beast.
Watch the clip above, via Fox News.