Former U.S. Attorney Explains Why Giuliani Keeps Undermining Trump's Impeachment Defense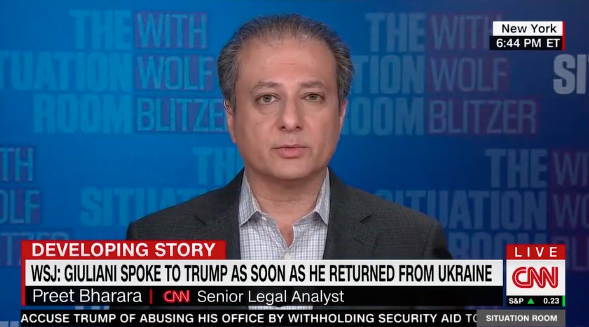 A former U.S. attorney helped shed light on the significance of the recent overseas antics of Rudy Giuliani, the president's personal lawyer, while the impeachment process plays out in Washington.
Preet Bharara, who worked in the Southern District of New York and is currently a CNN Senior Legal Analyst, said Giuliani isn't helping President Trump's impeachment defense by spending time in Ukraine trying to gin up dirt on the Bidens and create a false narrative surrounding alleged Ukrainian interference in the 2016 election.
"His forays into Ukraine undermine the central defense of the president," Bharara told Wolf Blitzer Friday night.
"It's a weak defense, but it's a central one, that…the president of the United States, when he called the Ukrainian president, he was not asking about the Bidens, per se; he cared about corruption generally. Obviously, that's belied by the circumstances of the call. It's belied by the president of the United States himself standing outside the White House saying, 'I wanted them to open an investigation into the Bidens.'"
"And now, in the midst of impeachment, as that vote looms, you have his private emissary…trying to find information on the Bidens and this debunked theory of whether the Ukrainians were involved in the 2016 election," said Bharara.
When Giuliani returned to New York from Ukraine last week, Trump called him, asking, "What did you get?" according to The Wall Street Journal. "More than you can imagine," the former New York mayor replied. Giuliani told the newspaper he is compiling his findings into a 20-page report.
Trump has asked Giuliani to brief GOP senators and the Justice Department about the information he collected.
What Giuliani is up to is "the very thing that all the defenders of the president are saying didn't happen," Bharara continued. "I saw a Republican congresswoman get asked the question, 'Do you think it's appropriate to ask for an investigation of his rival?' And she said, 'Well, he didn't do that.' Well, it's hard to argue he didn't do that when you have your private lawyer going about trying to do exactly that thing."
Giuliani was spotted at the White House on Friday, the same day the House Judiciary Committee approved two articles of impeachment against Trump for abuse of power and obstruction of Congress. A full House vote is expected next week.
Giuliani himself is being investigated by federal prosecutors for alleged campaign finance and lobbying crimes.
Watch the video above, via CNN.