McCabe Explains the Danger In Trump's Reported Personal Cell Phone Use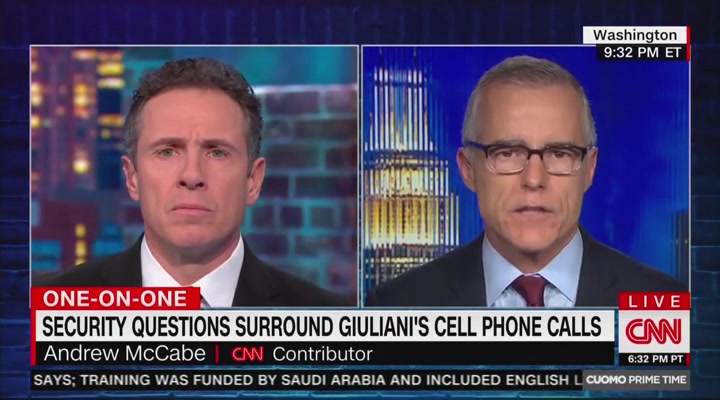 Russia might have been aware of the Trump administration's hold on military aid to Ukraine before that knowledge became public, The Washington Post reports, due to unsecured methods of communication involving the president and those close to him.
Additionally, Trump has not abandoned his personal cell phone to make calls despite warnings from staff, CNN reported Friday, ensuring that concerns over the vulnerability of the president's phone will not subside anytime soon.
On this topic, former FBI Deputy Director Andrew McCabe explained the inherent security problems with such a practice, with one example being US Ambassador to the EU Gordon Sondland's call to Trump from a restaurant in Ukraine. It is "highly likely" that this was picked up by foreign intelligence agencies, according to CNN.
"In that part of the world, intelligence services have almost unfettered access to cellular services and internet providers," McCabe told CNN anchor Chris Cuomo on Friday. "The technology to intercept individual cell phones that are in use is widely available now; things that were totally cutting edge a few years ago are widely used across intelligence services around the globe."
Phone records showing calls between Trump and his personal lawyer, Rudy Giuliani, were included in the House Intelligence Committee's report on its findings thus far in the impeachment inquiry. There is no indication that Giuliani's phone was encrypted.
"So the idea that Rudy is being covered by a foreign intelligence service, I'd bet the farm on it," McCabe said. "If they are listening to his phone, they now know the private conversations of the president of the United States and his attorney."
The New York Times reported last year that Chinese and Russian spies have eavesdropped on calls made to or from Trump's personal cell phone. Still, one person told CNN, trying to convince Trump to ditch unsecured lines is "a lost cause."
Watch the video above, via CNN.