Trump's Actions Are More Serious than Nixon's, House Dem Says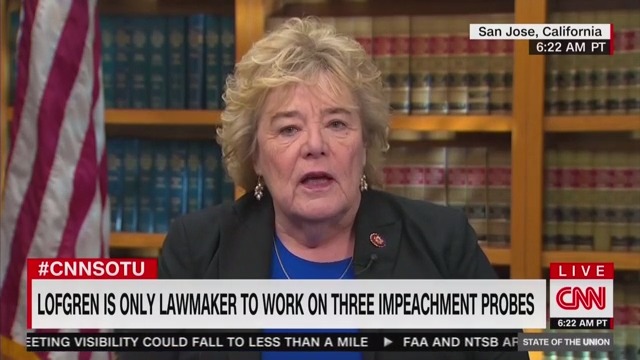 Rep. Zoe Lofgren (D-CA) compared President Trump's misdeeds to those of President Richard Nixon as revealed during the Watergate investigation, saying the nature of Trump's actions is more serious.
Speaking to Dana Bash on CNN's State of the Union on Sunday, Lofgren, who sits on the House Judiciary Commitee, pointed out that the difference in the present impeachment inquiry involves a president leveraging the help of another country, Ukraine, to interfere in an election through the investigation of a political opponent.
"[House] Intelligence Committee Chairman Adam Schiff says Trump's conduct has been far more serious and beyond anything that Nixon did," Bash said. "Do you agree?"
"Actually, I do agree," Lofgren responded. "President Nixon's misconduct related to using the levers of government to hide the Watergate burglary … but at least it didn't involve foreign nations."
Nixon, on the "smoking gun" tape that the Supreme Court compelled the White House to release, can be heard telling his chief of staff to get the FBI to abandon its investigation of the botched break-in of the Democratic National Committee headquarters in Washington, D.C.
Lofgren wrote one of the articles of impeachment against Nixon, who resigned before the House could vote. She is the only active lawmaker to work on three impeachment processes, with the Clinton impeachment being the third.
"What the Founding Fathers were concerned about was the interference by foreign governments in our political system," Lofgren said. "Nixon's behavior didn't fall into that range, so in that way, [Trump's] conduct is more serious."
The House Intelligence Committee on Tuesday is scheduled to approve the release of a report detailing its findings on the Trump-Ukraine scandal. The report will then be received by the Judiciary Committee in order to consider articles of impeachment.
Watch the video above, via CNN.