Steve Scalise Stumbles When Grilled by Fox's Chris Wallace on Impeachment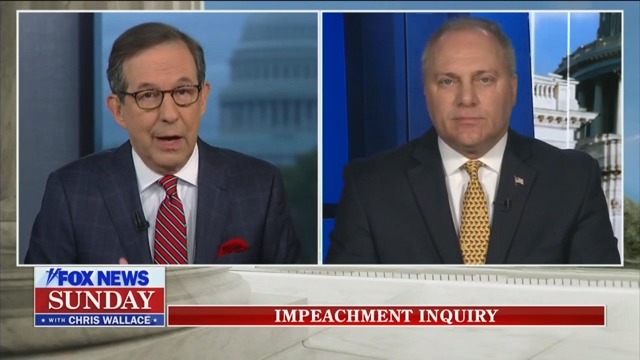 Fox News Sunday anchor Chris Wallace repeatedly confronted House Minority Whip Steve Scalise (R-LA) on Sunday over the top Republican's characterization of last week's impeachment testimony, accusing Scalise of "very badly" misrepresenting the witnesses' positions.
"Those were [House Intelligence Committee Chair Adam] Schiff's witnesses," Scalise insisted.
"No, sir, they are career foreign service officers and these are people who worked in the Trump administration," Wallace retorted, adding that an aide to Vice President Mike Pence recently testified that Trump's call was "inappropriate."
"You had Tim Morrison, who was on the NSC staff, who said that he—alarm bells immediately went off for him," the Fox News host continued. "Alexander Vindman immediately went to see—these are all people, you say they are Schiff's witnesses—they all were working in the Trump administration."
Read the rest of the piece at The Daily Beast.
Watch the clip above, via Fox News.