Tapper Grills GOP Rep. Over Trump's Yovanovitch Tweet: 'How Is It Not Witness Intimidation?'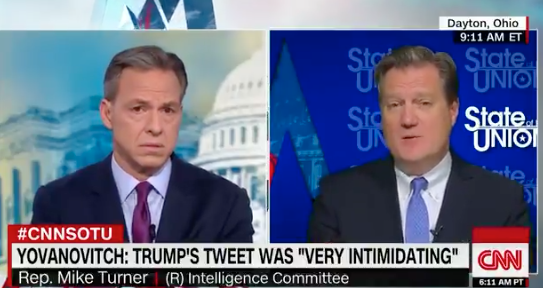 Rep. Mike Turner (R-OH) went so far as to call President Trump's tweet attacking former Ukraine ambassador Marie Yovanovitch "unfortunate," but that was the only criticism of the president he was willing to muster.
On CNN's State of the Union, Turner was pressed by Jake Tapper about the tweet, which was sent while Yovanovitch was testifying and which House Committee Chair Adam Schiff (D-CA) read aloud shortly thereafter. Yovanovitch said she felt "very intimidated" by it.
"You do find it concerning that a witness in real time found the president's tweet to be, intimidating?" Tapper asked.
"It's certainly not impeachable, it's certainly not criminal, and it's certainly not witness intimidation," Turner said, arguing that since Yovanovitch was already in the process of testifying it didn't really matter.
"If a witness says she's intimidated, how is that not witness intimidation," Tapper shot back.
"Well, there's a difference between, 'I feel intimidated' and 'I'm intimidated to testify,'" he claimed. "Cleary, she testified completely and fully," he added, continuing to insist that Yovanovich "was in no means intimidated and prevented from testifying."
This is not the first time the topic of witness intimidation has arisen because of either Trump or an ally of his. Roger Stone, a former advisor, was found guilty Friday of, among other charges, pressuring a witness not to cooperate with a congressional investigation against him.
Watch the video above, via CNN.