Sheriff Defends Putting 'In God We Trust' on Police Cars: 'We're Gonna Lose This Great Country'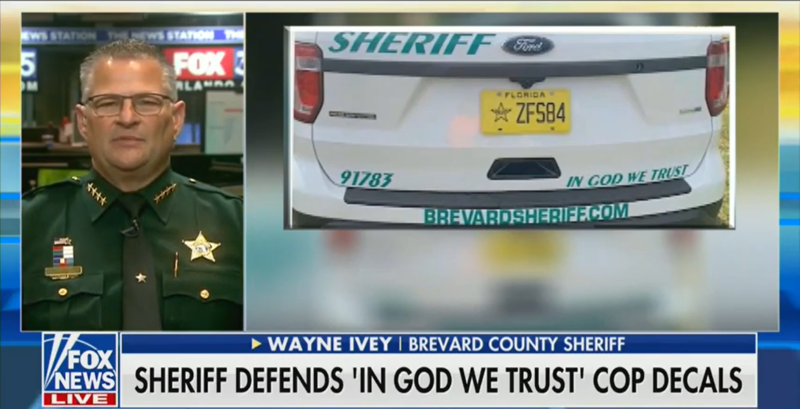 A Florida sheriff has defended the decision to put the phrase 'In God We Trust' on police cars by suggesting it will help to save the country. Sheriff Wyne Ivey of Brevard County, Florida told Fox & Friends on Friday that be believed the country needed patriotic Americans to act in order to save it.
The Fox & Friends hosts strongly approved of the move, which was objected to by the Freedom from Religion Foundation. The sheriff has said he will not remove the 'In God We Trust' decals and argued that the phrase was not a religious endorsement.
"And our team didn't make this team in a vacuum," Ivey said. "We made it with the thought of representing our community, our country, our, you know, agency and all the proud things that the men and women of our agency do. So, you know, we knew there might be this type of reaction from some."
"But, you know, I personally believe that our country's at a tipping point and if strong, patriotic Americans don't start standing up for the principles of this great country, we're gonna lose this great country. It was the right thing to do and we're standing by it."
The Fox & Friends hosts didn't probe Ivey's beliefs too deeply but rather moved on to discuss possible legal ramifications, which Ivey said were not a concern. Towards the end of the segment, guest co-host Pete Hegseth chimed in.
"I'm not sure how the Freedom from Religion Foundation raises money since every dollar they receive has 'In God we Trust' on it," Hegseth said. "Last time I checked it was freedom of religion not freedom from religion."
Watch the video above, via Fox News.