Newt Gingrich: Impeachment Is 'Kangaroo Court Led by the Chief Kangaroo Adam Schiff'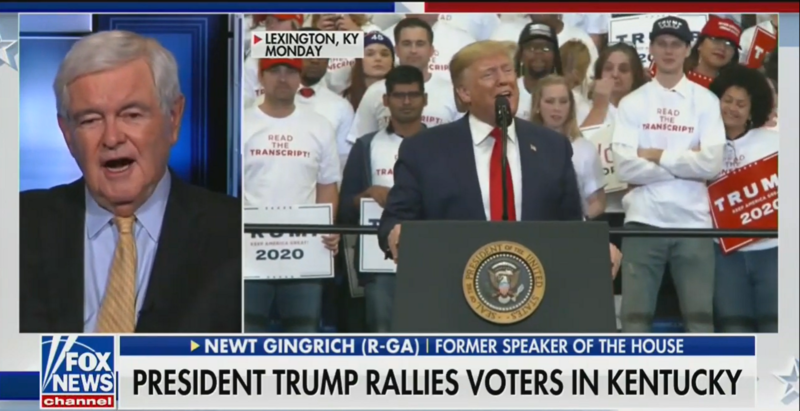 Former Speaker of the House Newt Gingrich has again attacked Democrats' impeachment inquiry against President Donald Trump. The Republican told Fox & Friends on Tuesday that impeachment should not be taken seriously and singled out Democratic Rep. Adam Schiff – who has become a major target for Trump's defenders.
Gingrich praised Trump's remarks at a rally in Kentucky on Monday night, comparing him to Ronald Reagan. He then attacked Democrats on impeachment.
"When they had the vote on impeachment, not a single Republican in the House voted to proceed and two of the Democrats sided with the Republicans," Gingrich said. "So, Pelosi came nowhere near delivering her promise that it would be bipartisan. In the Senate, the same thing's gonna be true."
"This whole thing is a political charade, essentially a kangaroo court led by the chief Kangaroo Adam Schiff," Gingrich said.
"And I think we ought to recognize it for what it is. It's not a serious project. It's a political project."
Gingrich was Speaker during the impeachment proceedings against Bill Clinton, which are now widely regarded as a partisan effort to stymie the president's agenda. Gingrich and other Republicans from that era have repeatedly decried the current impeachment inquiry, despite their role in the failed push to remove Clinton.
Watch the video above, via Fox News.