Former Clinton Press Secretary: 'The White House Is Stonewalling for a Reason'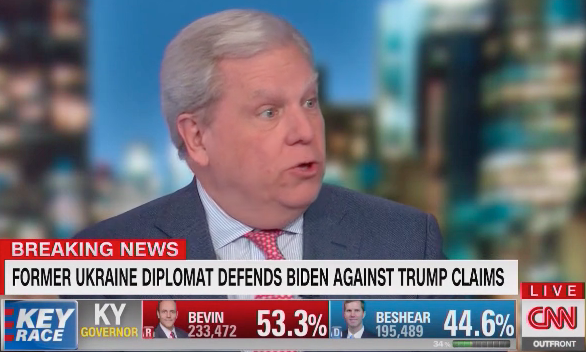 A former White House press secretary under Bill Clinton called out the Trump administration for urging top officials to avoid appearing before House committees conducting the impeachment inquiry.
Joe Lockhart said Tuesday on CNN's Out Front that the White House is acting like it has something to hide in regard to President Trump's call over the summer with the president of Ukraine.
"What is curious to me is the Republican talking point for the last two days is this is second and third-hand information," Lockhart said. "First off, there's a lot of first-hand information, but it's the president who is keeping Mick Mulvaney from testifying, Rick Perry from testifying, and Mike Pompeo from testifying. These are people who have first-hand information and if they had exculpatory information on this, I guarantee you they'd be up on The Hill."
Democrats have requested testimony from White House chief of staff Mick Mulvaney, who previously had declared that the decision to withhold aid to Ukraine was linked to President Trump's demand for an investigation into 2020 Democratic candidate Joe Biden. He later walked back those comments.
Several aides to Mulvaney have refused to appear for depositions in recent days, among them Michael Duffey, national security chief at the Office of Management and Budget, and Wells Griffith, the senior director for international energy and environment at the National Security Council. Both were scheduled to appear on Tuesday.
"The White House is stonewalling for a reason," Lockhart continued, emphasizing how central those in OMB are to the investigation. In order to fight back, he said, the administration "is doing everything they can — including defying valid subpoenas — to make sure that these people can't testify."
"Those are the actions of a guilty party," he added.
Gordon Sondland, the former EU ambassador who had been seen as one of the president's loyalists, said Monday in a "supplemental declaration" to his testimony last month that he did in fact tell a Ukrainian official that aid to the nation was linked to an investigation of Biden. Sondland's new statement, which corroborates others' testimonies, certainly adds more pressure on the White House to get its story straight.
Watch the video above, via CNN.