Democratic Rep. Jim Himes Clashes with Fox's Brian Kilmeade: 'That's Not What I Think. That's What's Happening'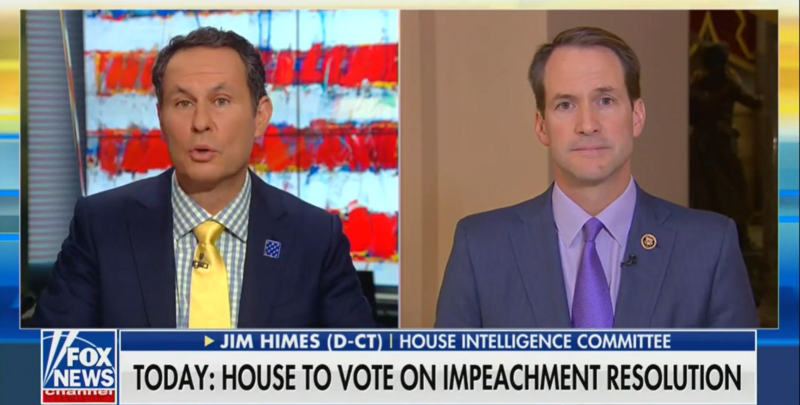 Democratic Congressman Jim Himes sparred with Fox & Friends host Brian Kilmeade on Thursday morning as Kilmeade tried to push Republican talking points about the ongoing impeachment inquiry. Kilmeade pointed to comments by Republican Rep. Lee Zeldin, who said Democrats' vote today would not be about the substance of the allegations against the President.
Himes said Republicans were "talking exclusively about the process" over the past few weeks "because they really don't want to defend the substance of the President of the United States squeezing a foreign ruler to investigate his political opponent."
"That's what you think," Kilmeade said.
"That's not what I think. That's what's happening," Himes said.
Himes went on to say that the identity of the whistleblower was no longer important, but Kilmeade pushed the argument that Trump's defenders have been making for a while now.
"I think if someone launches an investigation into a president we should at least have that person, if we keep their identity secret, we should at least have that person involved in this conversation," Kilmeade said.
"Well, that may be your opinion," Himes said. "But, of course, everything that the whistleblower and the complaint laid out has subsequently been proved to be true by people who were actually in the room. So we can disagree about that."
Watch the video above, via Fox News.