During Report on Impeachment, 'Fox & Friends' Joke That Trump Has 'The Most Famous Escalator'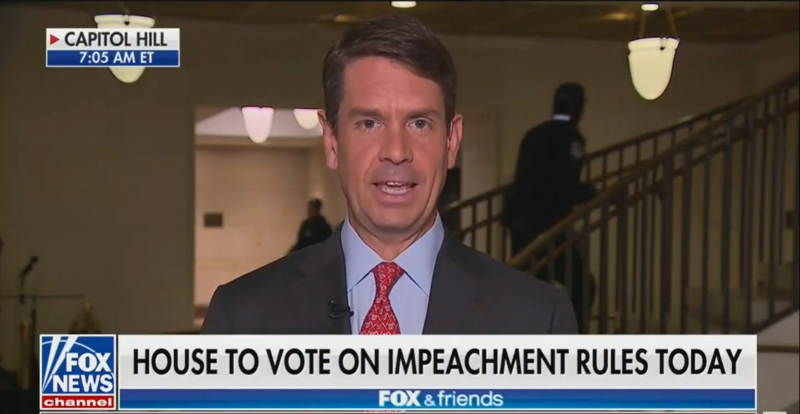 As President Donald Trump's difficulties mount, his media surrogates at Fox & Friends have apparently decided to keep things light. During a serious news report on today's impending House vote, the hosts took the time to joke about stairs and escalators.
Reporter Griff Jenkins was giving a report about the ongoing impeachment proceedings and the upcoming testimony of senior White House Russia official Tim Morrison. Jenkins made the mistake of standing in front of the staircase that featured in Republicans' recent 'storming' of a Secure Compartmentalized Information Facility (SCIF).
"Griff, we took notice when all the Republicans walked down the staircase and went into the SCIF room,"co-host Ainsley Earhardt said.
"If that's the most famous staircase, what do you think the most famous escalator is?"
Jenkins laughed but did not appear to be especially amused by the question.
"I have no idea," he said awkwardly,
"Trump Tower!" Earhardt said.
"Can you keep busy and we'll talk to you again in an hour?" co-host Brian Kilmeade asked as Jenkins swiftly moved on from the staircase/elevator exchange.
Earhardt was referring to the escalator at Trump Tower that Donald Trump descended at the start of his candidacy.
Watch the video above, via Fox News.