Mulvaney: Trump 'Still Considers Himself To Be In the Hospitality Business'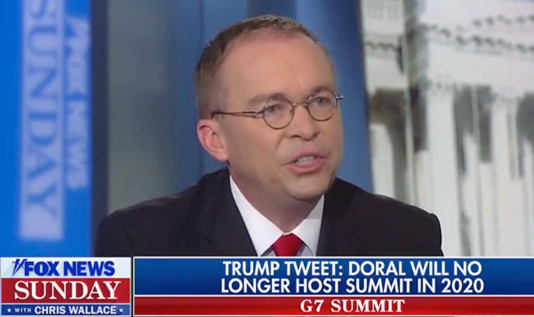 Acting White House Chief of Staff Mick Mulvaney was pressed by Fox News Sunday anchor Chris Wallace over President Trump's initial choice to host next year's G-7 summit at his own property in Florida.
"He was honestly surprised at the level of pushback," Mulvaney said, referring to several Republicans' uneasiness with the idea. "At the end of the day, he still considers himself to be in the hospitality business."
"He wanted to put on a show, he wanted to take care of folks," he continued. "He's in the hotel business."
Trump walked back the plan Saturday night amid accusations of self-dealing, although he chose to blame Democrats and the media instead.
Watch the video above, via Fox News.