Former U.S. Attorney: We May See 'Giuliani Throwing Trump Under the Bus'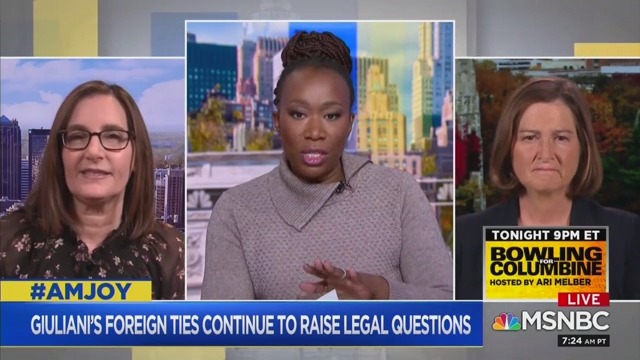 A former U.S. attorney laid out prosecutors' strategy following the arrest of two business associates of Rudy Giuliani, President Trump's personal attorney.
Appearing on MSNBC's AM Joy on Saturday, Barbara McQuade presented a potential scenario that could endanger the president.
"There had been some speculation early on that Trump was going to throw Giuliani under the bus, but we may get to the point where it's Giuliani throwing Trump under the bus," McQuade said. "That's the way prosecutors work. They work their way up the chain of criminal organizations."
Two foreign-born businessmen, Lev Parnas and Igor Fruman, were arrested last Wednesday on campaign finance charges. They were taken into custody at Dulles International Airport in Virginia with one-way tickets out of the country.
The two are central figures in Giuliani's attempt to pressure Ukranian President Volodymyr Zelensky to investigate former vice president Joe Biden and his son, Hunter Biden, as well as gin up a narrative to counter the special counsel's Russia investigation. The two introduced Giuliani to Ukrainian prosecutor Yuriy Lutsenko and arranged a Skype call between the former mayor and another prosecutor, Viktor Shokin, in late 2018.
The judge overseeing the case set a $1 million bond for each, with home detention and GPS monitoring once released. This may be a sign of what is to come, McQuade says.
"Ordinarily, [prosecutors] would be aggressively seeking detention for these two men," she said. "They have ties to foreign countries. They are a substantial risk of flight. They were trying to flee at the time that they were arrested to avoid testifying before Congress. The fact that the southern district of New York agreed to a bond suggests to me that they're already having conversations with their lawyers about cooperation."
Watch the video above, via MSNBC.