MSNBC's Chris Hayes Backs Former Colleague Ronan Farrow Amid Network Turmoil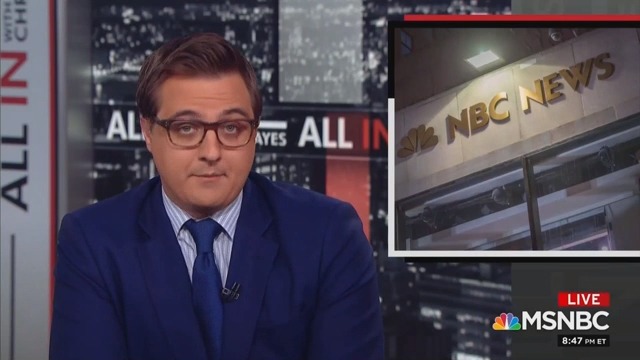 As his network accused former NBC reporter Ronan Farrow of spreading a "conspiracy theory" that NBC News executives downplayed a rape accusation against former Today star Matt Lauer, MSNBC host Chris Hayes took to the air Monday night to back his former colleague while expressing pause over how NBC handled Farrow's initial reporting on Harvey Weinstein.
"Time and again the path of least resistance for those with power was not to cross Weinstein or his army of friends and lawyers," he said. "Same goes for the many, many, many other powerful predators we've come to know about."
"The path of least resistance is always there, Hayes concluded. "Beckoning seductively, you've got bigger fish to fry. This isn't the hill to die on. The story isn't ready. But of course, it's the very ease of that path that makes it the enemy to the kind of work we, as journalists, are supposed to do."
Read the rest of the piece at The Daily Beast.
Watch the clip above, via MSNBC.