Laura Ingraham Sparks Outrage By Comparing Greta Thunberg to 'Children of the Corn'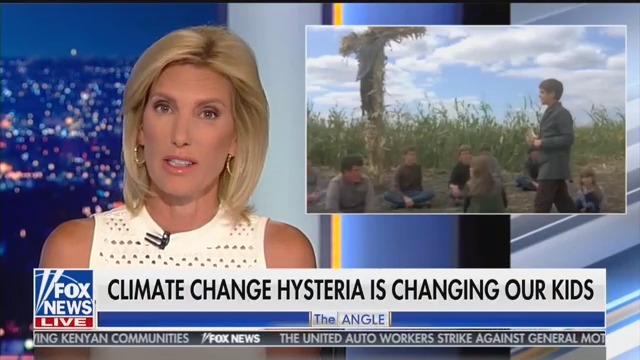 Fox News' Laura Ingraham has caused outrage on social media following her comments about 16-year-old climate activist Greta Thunberg. During her show, The Ingraham Angle, she compared the Swedish campaigner to Stephen King's 'Children of the Corn'.
Ingraham showed a clip of Thunberg's emotional speech to the United Nations and commented: "Anyone else find that chilling?"
She then showed footage from the 1984 movie Children of the Corn and joked about the comparison.
"I can't wait for Stephen King's sequel, Children of the Climate," Ingraham said.
A couple hours after Fox News guest Michael Knowles called Greta Thunberg a "mentally ill Swedish child," Fox host Laura Ingraham directly compares Thunberg to Stephen King's "Children of the Corn" pic.twitter.com/udGOg6tZVE

— Justin Baragona (@justinbaragona) September 24, 2019
Her comments came just hours after the Daily Wire's Michael Knowles called Thunberg a 'mentally ill Swedish child' on Fox News, causing the network to cut ties with him.
Reaction to Ingraham's comments on social media was swift as users rushed to condemn her for attacking Thunberg. Prominent journalists and public figures joined in the criticism along with ordinary social media users.
She has Asperger Syndrome, and has drawn a lot of awareness to the syndrome and how much of a challenge it is for teenagers, especially girls. https://t.co/SAWYQLFX1b

— Maggie Haberman (@maggieNYT) September 24, 2019
Some users pointed out the irony of First Lady Melania Trump promoting her anti-bullying campaign on the same day her husband's media supporters were attacking a 16-year-old.
While Donald Trump, Michael Knowles, Ann Coulter, Dinesh D'Souza, Laura Ingraham, and Harold Cherry are bullying a 16 year old girl up for a Nobel peace prize,

I would like to congratulate Melania Trump on her amazing Be Best campaign against bullying.

Fuck you Melania.

— Tony Posnanski (@tonyposnanski) September 24, 2019
While others were disgusted but not surprised.
Sigh. @IngrahamAngle is a despicable human being. But, then, we already knew that. https://t.co/L0vmLXHzsC

— David Gorski, MD, PhD (@gorskon) September 24, 2019
You can watch the video above, via Fox News/Twitter.