Fox Rival OANN: Hunter Biden Made 'Unholy Alliance' With 'Longtime Communist'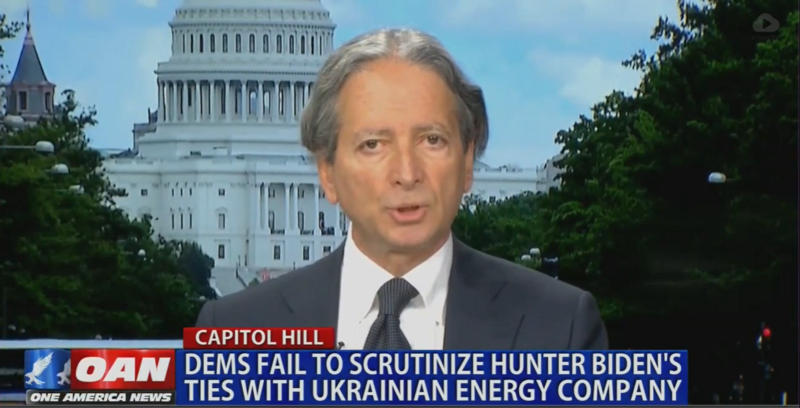 One America News Network (OANN and sometimes OAN) ran an inflammatory report on former Vice President Joe Biden and his son, Hunter, on Tuesday. The right-wing network is trying to compete with Fox News for viewers and it has adopted a stridently pro-Donald Trump editorial line to do so.
Richard Pollock, who is described as a Political Investigative Reporter, gave a long report on Hunter Biden's activities in Ukraine that both sensationalized the story and left out key details. Naturally, the whole report was spun as an attack on the former VP.
"One America News has found that Hunter Biden knowingly entered into an unholy alliance with Mykola Zlochevsky while accepting retainer fee of $50 thousand per month," Pollock said.
"His company, called Rose One Capital, ultimately collected $3.4 million from the oligarch."
Pollock went on to link former Secretary of State John Kerry's son to the story and cast aspersions on Joe Biden's role in getting a Ukrainian prosecutor fired. The prosecutor in question was himself corrupt and his dismissal was urged by the international community and widely celebrated.
Pollock went on to mention Zlochevksy's Communist past.
"Hunter Biden's business partner was also a longtime Communist," Pollock said, adding that Zlochevksy had had a cabinet post under Ukraine's former dictator. This should not be especially surprising as Ukraine was part of the Soviet Union until the 1990s and membership of the party was necessary for advancement.
There is simply no evidence that Joe or Hunter Biden did anything illegal in Ukraine but OANN is working to win over Trump supporters.
Watch the video above, via OANN.