Fox News' Brian Kilmeade: 'Can't Really Blame Capitalism' for Climate Change Because 'China Is Doing A Lot'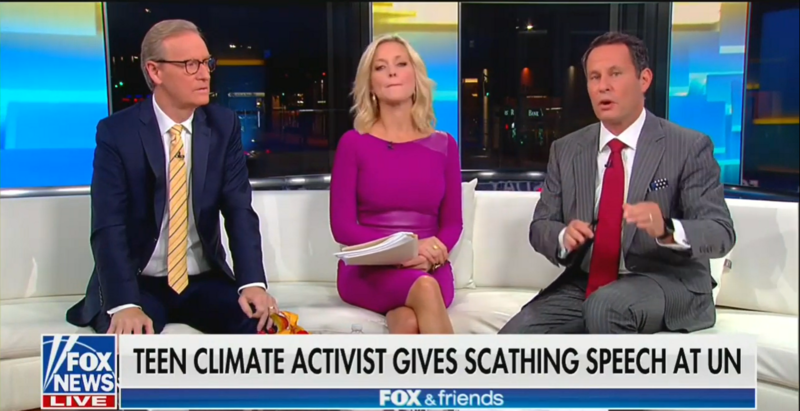 Fox News continued its coverage of climate change activist Greta Thunberg on Tuesday, though the hosts of Fox & Friends were less strident than their colleagues the previous evening. Steve Doocy, Brian Kilmeade and Ainsley Earhardt showed clips of the 16-year-old campaigner and reaction from Fox's own Tucker Carlson.
The Fox News hosts said that Thunberg blamed capitalism for the climate crisis, but Kilmeade refused to accept this widely accepted fact, instead pivoting towards a weak attack on China, which still claims to be a Communist state.
"Most of these kids believe the world's ending in 10 years," Kilmeade said.
"Twelve," Doocy said.
"Twelve. My fault, I stand corrected," Kilmeade said mockingly.
"I would love for someone to get that bold in China and Russia and just start calling out the dictatorships. I have a sense that you can't really blame capitalism for what's going wrong or right with the planet because China is doing a lot to destroy our atmosphere. I just wish someone would have the courage to take them on."
Kilmeade appears to have made two mistakes here. He seemed to claim that China does not participate in capitalism. This is plainly false, as Chinese trade with the U.S. and the rest of the world shows. He also agreed that China is 'destroy[ing] the atmosphere.'
Kilmeade inadvertently acknowledged climate change was real while blaming China for it. Fox & Friends has frequently hosted climate change deniers.
Watch the video above, via Fox News.