Klobuchar Slams Trump for Confusion Around Taliban Negotiations: He's Treating Foreign Policy Like a 'Game Show'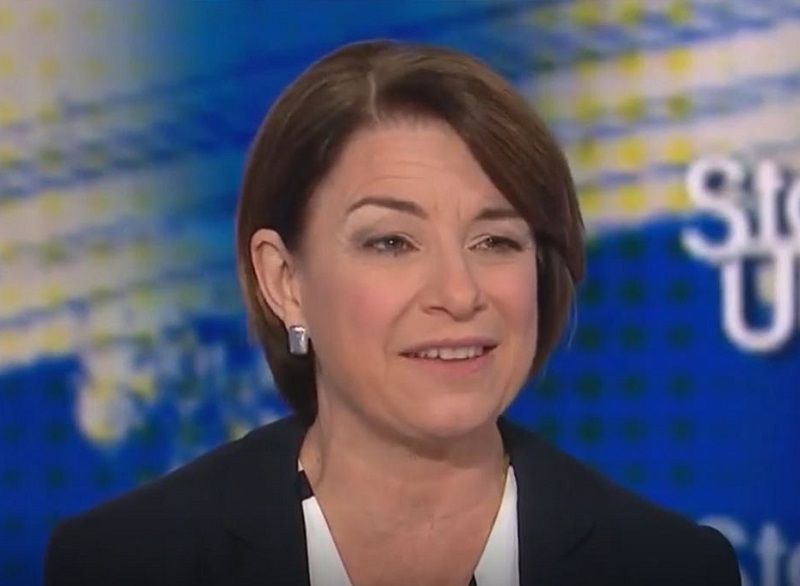 Democratic presidential candidate Sen. Amy Klobuchar slammed President Trump for treating negotiations to end the war in Afghanistan as "some kind of game show" on Sunday.
Trump had announced in a series of tweets on Saturday night that he had canceled a summit at Camp David between Taliban leaders and Afghan president Ashraf Ghani after a Taliban attack in Afghanistan's capital city, Kabul, resulted in the deaths of a dozen people, including an American soldier.
That Trump had planned to bring Taliban leaders to American soil on the eve of the anniversary of the September 11 attacks had people gobsmacked enough. To reveal the plan while canceling it the day before the meeting was to take place seemed to show the administration it its usual confused state.
Appearing on State of the Union on CNN, Klobuchar criticized Trump's approach to trying to end the nearly 18-year-old war over its disorganized and slapdash methodology.
"[Y]ou see again that he has some kind of hastily arranged summit, which no one knew was happening. OK. But he didn't even seem to have an agreement or even close to an agreement when he set the summit. Then the excuse that's used to end the summit and take it down is the fact that, tragically, an American service member died, as well as other civilians."
She added, "It's just another example of the president treating foreign policy like it's some kind of game show."
Klobuchar also found other examples of how Trump conducts his foreign policy that add to world instability by keeping too many countries guessing at what he's doing:
"You think about trade policy, where he says he's going to slap a bunch of tariffs on, on August 1, and then for $300 billion, August 12, they take back half of them. The next day, he says he's going to reduce taxes. Then he changes his mind. The world is watching. China is watching. Russia is watching. They realize the weakness that this creates when we don't have consistency. There is this old saying in foreign policy and in trade negotiation, keep your promises and keep your threats. He keeps neither."
Watch the video above, via CNN.