CNN's Jake Tapper Challenges Mike Pompeo: 'Why Invite the Taliban to Camp David?'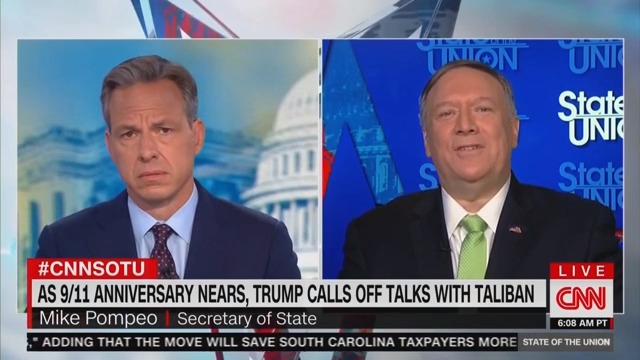 On Sunday, State of the Union anchor Jake Tapper repeatedly confronted Secretary of State Mike Pompeo on President Donald Trump's recent announcement that he abruptly called off secretive peace talks with the Taliban, asking the nation's top diplomat why the president would invite the Taliban to Camp David days ahead of the 9/11 terror attack anniversary.
"I can't help but think that if a Democratic president had talked about having the Taliban come to Camp David to negotiate a peace process that was not already a done deal," Tapper noted. "That you as a congressman, as a soldier, as a veteran, as a West Point graduate, that you would be rather upset."
The secretary of state insisted that the State of the Union host was "just wrong about that" before taking a shot at Obama, claiming the former president was "prepared to leave without ensuring to protect America."
Read the rest of the piece at The Daily Beast.
Watch the clip above, via CNN.