Nigel Farage Suggests Trump Protesters in Britain Are Bought and Paid For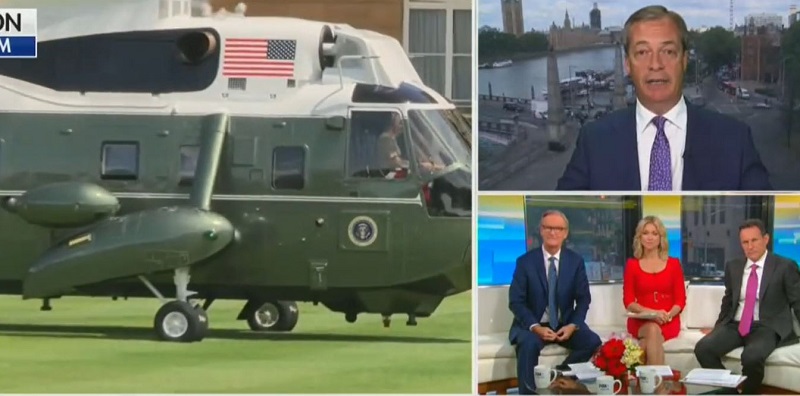 Fox News has been working overtime to tell its audience that President Trump is popular in Great Britain, hundreds of thousands of protestors and a giant balloon portraying him as a squalling, diaper-clad baby notwithstanding.
To help, Fox & Friends enlisted Nigel Farage to spin for Trump. And Farage, a British conservative and one of the president's most visible supporters in the UK, was happy to help.
Farage started off by blaming "wall-to-wall negativity from the entire British press" for the public's dislike of Trump when he was first elected. "Sometimes I felt like his only public supporter in the country," Farage said, before going on to swear that "things have changed."
He went on to claim that Trump's approval ratings are much higher in Britain than they were when he was first inaugurated in 2017. He did not cite any evidence to back it up, possibly because he couldn't find any.
In fact, YouGov lists Trump with an approval rating of 21 percent of the British public as of this past April, with 67 percent disapproving.
As for the expected protests by as many as 250,000 people, Farage dismissed them as "organized, paid-for protests." He also complained that the protests when leaders of China and Arab states with poor human rights records visit are much smaller. Perhaps it just didn't occur to him that the people of Britain might have higher standards for the President of the United States, with whom Great Britain has historically had a much more positive relationship, at least in the postwar era.
"I think all of it is a show but generally his reputation is on the up," Farage concluded, having provided no evidence whatsoever.
Watch the video above, via Fox News.