Mulvaney Dismisses Request to Move USS John S. McCain as 'Not an Unreasonable Question'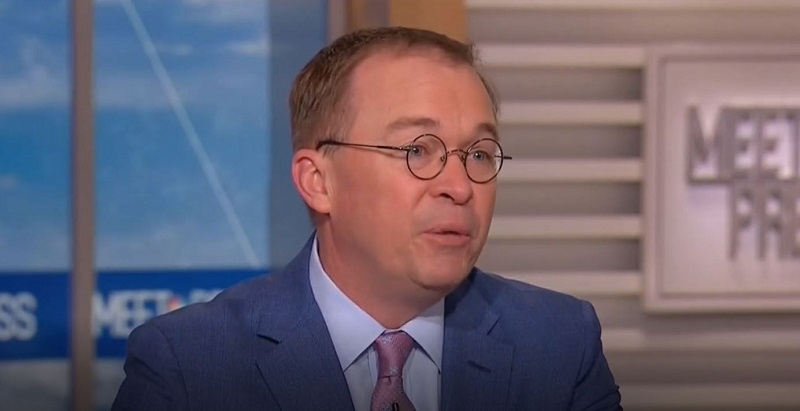 Acting White House Chief of Staff Mick Mulvaney took to two Sunday shows to dismiss as "not an unreasonable question" a White House request that the Navy move the USS John S. McCain so President Trump would not be forced to see it during his trip to Japan earlier this week.
Appearing on Meet the Press, Mulvaney told Chuck Todd that "The fact some 23- or 24-year-old person went to that site and said, 'Oh my goodness, there's the John McCain, we all know how the president feels about the former senator, that's not the best backdrop, can somebody look into moving it?' That's not an unreasonable thing to ask."
"Seriously?" replied a seemingly incredulous Todd.
"The president's feelings towards the former senator are well-known," Mulvaney said, agreeing with the president's statement that the person who made the request was "well-meaning."
Mulvaney gave almost word-for-word the same answer to Chris Wallace on Fox News Sunday, saying the fact a low-level staffer asked the question is no surprise, based on Trump's feelings about McCain, and the whole controversy is "much ado about nothing."
Asked if someone will be disiplined over the incident, Mulvaney seemed irritated, calling the request "innocuous" and blaming the media for making it into a major issue.
Wallace did push back a bit, noting that Acting Secretary of Defense Patrick Shanahan had told the White House to not "politicize" the military. Mulvaney, as he did on Meet the Press, characterized the initial request as something that came from "a twenty-three or twenty-four-year-old kid" that was not worthy of "two minutes of national television on Sunday."
Watch both videos above, via NBC and Fox News.