Seth Moulton: If You Looked Up 'Chicken Hawk in a Dictionary,' You'd See Trump and Bolton Next to Each Other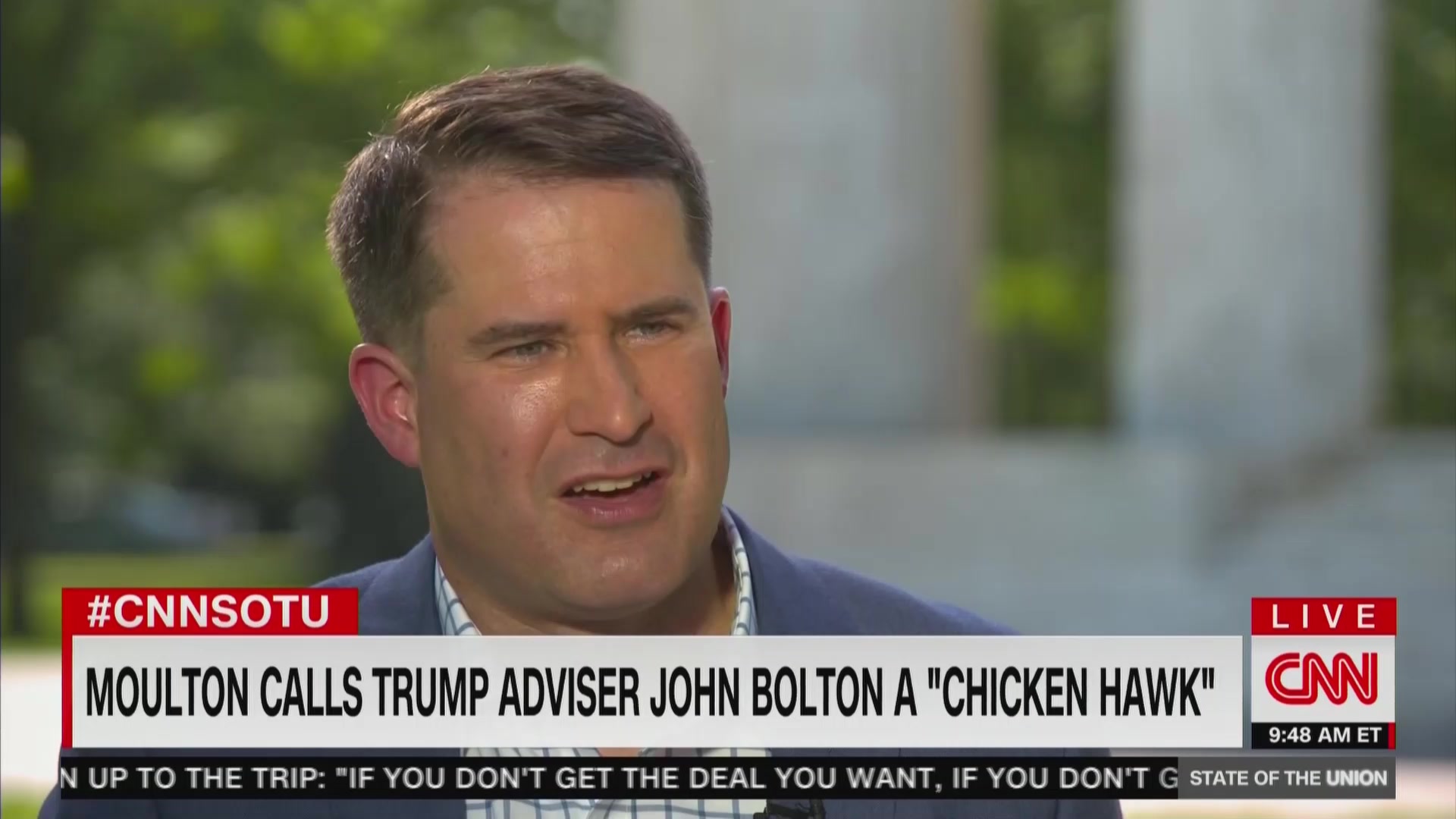 Marine Corps veteran and Democratic presidential candidate Seth Moulton blasted President Trump on Sunday morning, claiming the president is unable to stand up to the "chicken hawks" in his administration who are pushing for war in the Middle East.
Appearing on CNN's State of the Union, the Massachusetts congressman told host Jake Tapper that it was "incredibly dangerous" for the president to send 1,500 additional troops to the Middle East following the administration talking about the increased threat from Iran.
"The parallels between how the Bush administration pushed us into war with Iraq and how the Trump administration under a draft-dodging commander-in-chief is pushing us into war with Iran are uncanny," Moulton said. "I think there's a parallel with Vietnam with what [National Security Adviser John] Bolton and [Secretary of State Mike] Pompeo are trying to do, is put enough troops in the gulf that there's a good chance there will be the kind of interaction, altercation that set off Vietnam, that that will set off war with Iran."
The Democratic lawmaker went on to say Trump is neither tough enough nor has the credibility to "stand up to these chicken hawks," prompting Tapper to ask who he was specifically calling out as a chicken hawk.
"Well, John Bolton," Mouton responded. "He's one who pushed us into war in Iraq. He's trying to push us into war in Iran. Look, if you saw a definition of chicken hawk in a dictionary, you'd see Donald Trump and John Bolton right next to each other. I think we all know who is the chicken and who is the hawk."
The CNN anchor later pressed Moulton on Democratic presidential frontrunner Joe Biden's vote for the Iraq War, causing the congressman to hedge and say he wasn't in the Senate at the time.
"That's a cop-out because you were on the front lines," Tapper shot back. "You have more of a right to make a judgment about that vote than anyone."
Moulton replied that "we should have questioned the intelligence" and "exhausted every opportunity before we put young American lives in danger."
Watch the clip above, via CNN.