GOP Sen. John Kennedy Challenges Democrats to Impeach Trump: 'Go Hard or Go Home'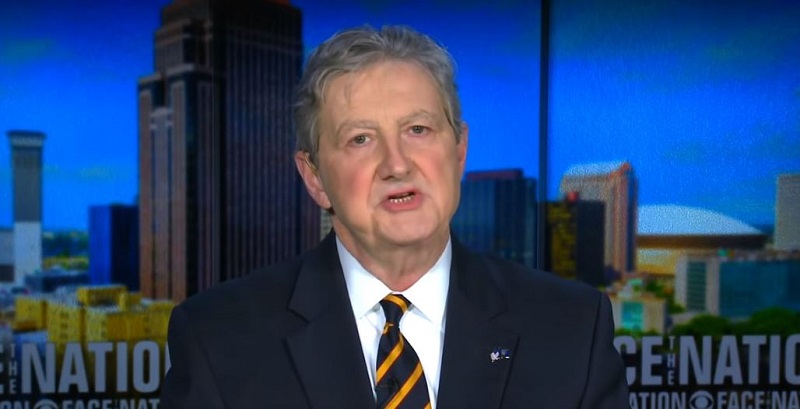 Sen. John Kennedy (R-LA) taunted Democrats on Sunday morning over their hesitation in impeaching President Trump, telling Margaret Brennan on Face the Nation that the party should just do it already if it thinks it has a case.
Deploying the folksy, alleged charm that is a staple of his interviews, Kennedy told Brennan that if his Democratic colleagues want to impeach the president, they should "go hard or go home. If you want to do it, go to Amazon online, buy a spine, and do it."
But, he warned, "impeachment polls right up there with skim milk among the American people." And it's true, skim milk has undergone a huge drop in popularity in recent years with the public, based on sales figures from the Farm Bureau.
Kennedy also tried to dodge Brennan's questions about the contents of the Mueller report. He flat-out lied when he claimed the special counsel was not saying the president did or did not commit obstruction of justice, just that he was not going to bring an indictment. In actuality, Mueller said he was forbidden by Justice Department policy, based on an old Office of Legal Counsel memo, that a sitting president could not be indicted. It is an enormous difference that Brennan, unfortunately, did not pick up on.
The senator from Louisiana also claimed that Attorney General Bill Barr, in investigating the origins of the Russia investigation at the FBI, will also be looking into the beginning of the investigation of Hillary Clinton's use of a private email server. There is no indication that Barr is interested in looking into that, even though its public existence may very well have made the difference in the election while the Russia investigation remained secret.
Kennedy also addressed the issue of the tariffs Trump announced he is slapping on Mexican goods. He called it a "mistake" that he thinks the president will eventually come to his senses because he knows it will tank the American economy. In doing so, he said Trump is "a smart man" who "has been known to play with fire but not live hand grenades."
It is hard to see the difference, but he's the folksy one.
Watch the video above, via CBS.