Tucker Carlson Runs No Ads From Blue Chip National Advertisers on Tuesday Night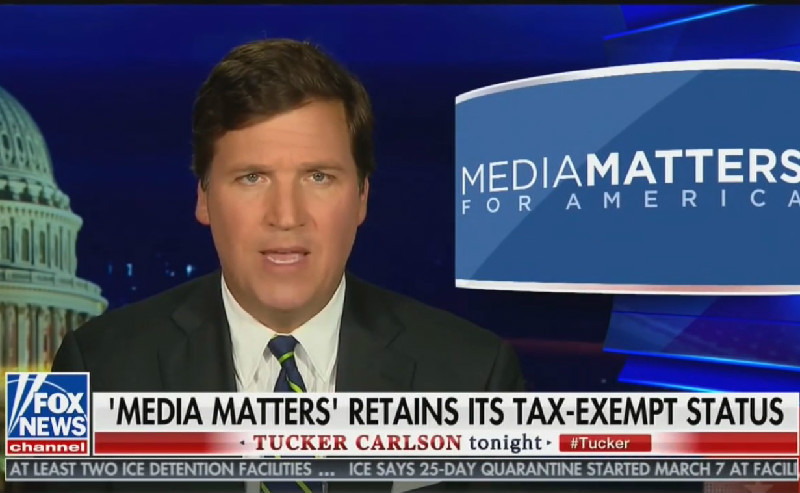 Already mired in an advertiser backlash for saying last December that immigration makes America "poorer and dirtier," Fox News host Tucker Carlson is once again the focus of widespread outrage over unearthed comments from appearances on shock jock Bubba the Love Sponge's radio show that featured Carlson describing women as "extremely primitive," defending statutory rape and calling Iraqis "semiliterate primitive monkeys."
During Monday's broadcast of Tucker Carlson Tonight after Media Matters for America released its first round of audio clips on Sunday night, Carlson declared he wouldn't "bow to the mob" and that the network stands behind him, something a Fox News spokesperson confirmed later. His advertisers, however, were a whole different story, as Carlson's ad time was slashed to 13 minutes 28 seconds across four ad breaks, with nearly four minutes devoted to station promos and an additional four minutes taken up by direct-response advertiser (and Fox News fan) MyPillow.
If there was a thought that things couldn't get worse from an advertiser perspective, Tuesday night proved that notion wrong. With additional audio clips released over the previous 24 hours, Carlson called for Media Matters to be investigated by the IRS while claiming he was being targeted as part of a leftist authoritarian plot akin to the Holocaust. At the same time, his show was bereft of any blue chip national advertisers while his ad time was cut by an additional two minutes.
Based on an analysis of Carlson's program Tuesday night, Fox News only ran commercials from six separate advertisers, not counting local ads, station promos and public service announcements.
There were six national sponsors for Tucker Carlson Tonight and four commercial breaks.
Total ad time (including local ads, PSAs and promos) was 11:28. pic.twitter.com/0ICuBb94sS

— Contemptor (@TheContemptor) March 13, 2019
Notably, there were no ads from pharmaceutical giant Bayer, which had run commercials for its products, such as Claritin and One-a-Day vitamins, every night on March until Tuesday.
UPDATE: No statement from the company but there were no @Bayer ads on Tucker Carlson tonight.

Every other day in March @Bayer has run multiple ads on Tucker's show.

If you hear anything from the company, let me know.

— Judd Legum (@JuddLegum) March 13, 2019
Instead, Carlson's commercials were limited to MyPillow, anti-virus software seller PC Matic, a male supplement, HearingAssist, PODS and online boot seller Tecovas.
We have reached out to Bayer to see if they have changed their advertising strategy regarding Carlson's show in the wake of this latest controversy. As of publication, we had not heard back but will update this post if they respond.
Two companies, meanwhile, have publicly announced they will not be advertising on Tucker Carlson Tonight following the resurfacing of these comments: bedding manufacturer SHEEX and pharmaceutical company AstraZeneca.
The pressure on Fox News' advertisers won't likely go away any time soon, either. On Wednesday, Media Matters organized a protest outside the network's New York studio as Fox News attempted to woo advertisers and convince them not to jump ship in the wake of controversies from Carlson and fellow opinion host Jeanine Pirro.