Tucker Carlson's Monday Night Show Was Basically Down to MyPillow Ads and Fox Promos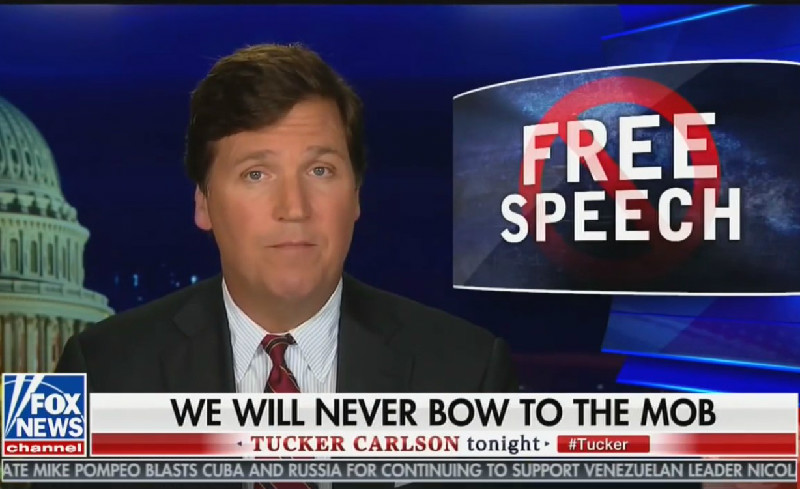 Fox News host Tucker Carlson began his Monday night primetime program with a searing rebuttal to recently unearthed comments he made during appearances on shock jock Bubba the Love Sponge's radio show between 2006 and 2011. As he was declaring that he will not "bow to the mob" and declining to apologize for defending statutory rape and describing women was "extremely primitive," Media Matters released another tranche of clips, this time of Carlson making extremely racist and xenophobic remarks.
Prior to this latest controversy to hit the Fox News star, Tucker Carlson Tonight was already struggling to retain advertisers following a targeted boycott after Carlson said last December that immigration makes America "poorer and dirtier." In the subsequent weeks, roughly 30 different companies announced that they wouldn't run ads during Carlson's program, resulting in the show reducing its ad breaks to four and relying more on direct-response advertisers and station promos.
Well, things have already gotten worse, and one wonders if this situation is salvageable for Fox News, regardless of Carlson's high ratings in the 8 PM hour.
As Carlson asserted that Fox News stands behind him and his show's mission, his program relied largely promotional ads for Fox programming and the network's streaming service Fox Nation, anti-virus software PC Matic and bedding manufacturer MyPillow, owned by a passionate Trump supporter and Fox News fan.
According to a breakdown of Monday night's commercials, Tucker Carlson Tonight ran a total of 13:25 of spots over four separate ad breaks. The only blue-chip advertiser willing to run a commercial during that time was pharmaceutical manufacturer Bayer, which ran two 15-second spots for Claritin and One-a-Day vitamins.
MyPillow was responsible for nearly half of the paid ads, running two two-minute ads, to take up four minutes of the nine minutes and forty seconds of commercial time that wasn't given to station promos, which took up nearly four minutes. PC Matic ran two one-minute ads and hemorrhoid cream RectiCare aired two 30-second commercials. Other ads were aired by GNC, Super Beta Prostate, Reputation Defender, PODS and a couple of local sponsors.
Since Media Matters dropped its first audio, two additional companies have announced that they are pulling their advertising from the show: SHEEX, a bedding and sleepwear company, and pharmaceutical company AstraZeneca.
The problems for Tucker Carlson come at possibly the worst time for the network. Last month, it was reported that Fox News was focusing its marketing effort on its "straight news" anchors and pushing a new slogan, "America Is Watching," in an effort to potentially downplay controversies surrounding their highly-rated primetime opinion hosts. The network invited the buyers to an event at their studio scheduled for March 13th.
Now, liberal groups are planning to protest outside of Fox News' New York studio as the network attempts to promote their news shows to advertisers. And it isn't just Tucker that they're protesting — fellow opinion host Jeanine Pirro drew widespread outrage over her Saturday night monologue questioning Rep. Ilhan Omar's (D-MN) loyalty to the Constitution due to her wearing a hijab.
Media Matters president Angelo Carusone, meanwhile, has said that the liberal watchdog group wants to make sure their Tucker audio clips are released so companies can make appropriate media buying decisions.
"We're entering a critical time of year: upfronts. This is when most of the ads for next year will be sold," Carusone told TheWrap. "Brand safety and dependability is a big factor this year. Advertisers have grown increasingly frustrated with the steady stream of Fox controversies."