Morning Joe On Trump's Foreign Policy: "It's Retreat, Retreat, Retreat, Surrender"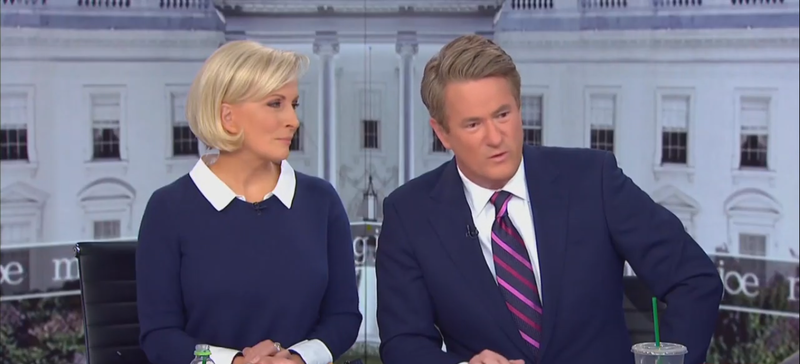 MSNBC's Joe Scarborough launched a stinging attack on President Donald Trump's foreign policy on Wednesday's Morning Joe. Scarborough and guest Noah Rothman were discussing the recent Congressional testimony from intelligence agency heads, which contradicted Trump's own claims.
The President this morning critcized former President Barack Obama for his policy on ISIS and North Korea, but Scarborough wasn't willing to accept all of Trump's assessment.
"Yes, things weren't going well with the North Koreans and Barack Obama or past presidents because none of the past presidents gave them the sort of victories that Donald Trump did without them having to do anything," Scarborough said. "He's showing extraordinary weakness and the North Koreans are loving it. Vladimir Putin. Weakness across the globe. A retreat from Syria, Afghanistan, the Taliban."
"Ryan Crocker wrote that this so-called peace treaty, it smells a lot like the Paris Peace Accords after Vietnam, that it's a complete capitulation to the Taliban, who were torturing and killing young, little girls for trying to seek a third or fourth grade education. I mean. It is unspeakable. The foreign policy pronouncements of Donald Trump and what he's trying to do.  But isn't it fascinating? In every case, it's retreat, retreat, retreat, surrender, surrender, retreat."
"And my greatest fear is that it's going to be popular," Noah Rothman said. "We are succumbing to a level of exhaustion from engagement in foreign affairs in an extroverted fashion that the public wants to hear North Korea is denuclearizing when they're not, when we're helping the Kim regime to take its place in the world, when we are withdrawing from Syria. Because no-one wants to engage with Syria but it is a necessity."
"What has Donald Trump done he always accused Barack Obama and other past presidents of doing?" Scarborough said. "Showing his hand. Hey, guess what? We're retreating. We're getting out of Afghanistan. Let's pull half the troops out now and then you're going to start negotiations? Again, it is just like Paris and negotiating with Ho Chi Minh."
"They are negotiating from a position of strength, we are negotiating from a position of weakness," Rothman said. "And the parallels are so eerie to South Vietnam where we have an insurgent organization on the other side of the Pakistani border where we can't accurately take the fight to them, really."
Watch the video above, via MSNBC.