Fox News Keeps Citing Anti-Immigration Think Tank Despite Widespread Criticism Over Findings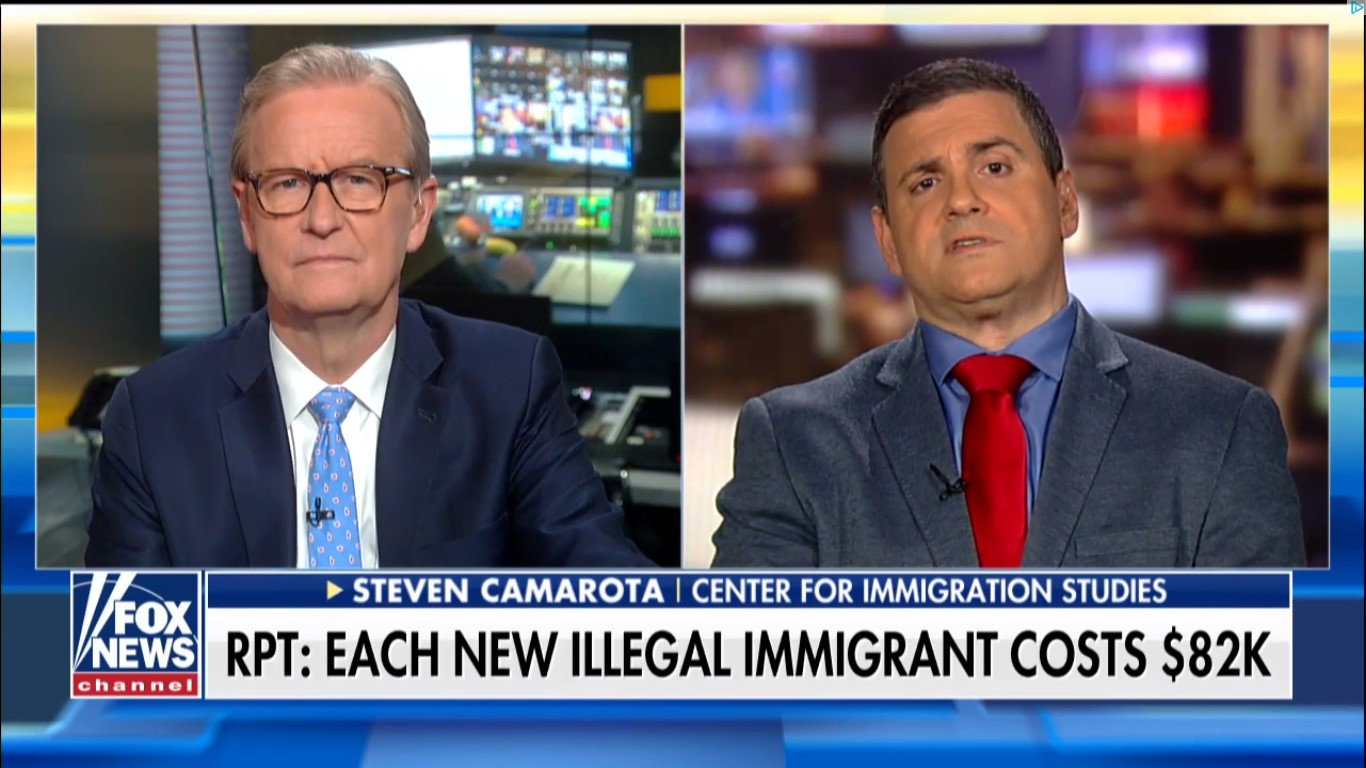 The longest government shutdown in history is over but the fight for President Donald Trump's border wall is still a live issue, nowhere more so than on Fox News. The conservative cable news network has argued hard for a wall along the southern border and played up fears of migrant caravans, immigrant crime and the financial costs of illegal immigration.
In its coverage of immigration, Fox News has frequently turned to the Center for Immigration Studies (CIS), a think tank that is strongly opposed to further immigration into the United States and strongly favors a border wall. Fox News and Fox News Business have frequently cited CIS in their coverage of immigration. Over the past few weeks, CIS representatives have been interviewed by Tucker Carlson, Lou Dobbs and Fox & Friends while Sean Hannity has cited their studies.
But the Center for Immigration Studies is controversial on both the left and the right. The Southern Poverty Law Center (SPLC) considers it a hate group that uses false statistics to push an anti-immigrant agenda. CIS is suing SPLC because of this designation, claiming SPLC is racketeering. SPLC has lost cases like this in the past. However, there is significant, bipartisan evidence that CIS misrepresents statistics to deliberately push its agenda.
Cristina Lopez has reported on CIS for Media Matters, a media monitoring site. She spoke to Contemptor about the organization.
"Two things about the Center for Immigration Studies: one has to do with its origins and the second one, with its methods. Origins-wise, CIS is part of the nativist lobby and was founded by John Tanton, a white nationalist," Lopez said. "Its analysis of reality and its policy prescriptions, therefore, are informed by insidious motivations."
"Second, CIS reaches misleading conclusions because its findings are based on methodological flaws and exaggerations in order to paint immigrants in the worst light possible. Either of those reasons should be enough to discount CIS as a credible source to influence immigration policy."
Alex Nowrasteh agrees that CIS' findings can be unreliable. Nowrasteh works at the Cato Institute, a libertarian think tank, and has written critically of CIS in the past.
"I always double-check CIS research to make sure it's methodologically sound," Nowrasteh told us. "Some of their work, such as their summaries of recent Census or ACS data, are fine. Much of their work on the economic effects of immigration or terrorism is typically very weak, methodologically unsound, and erroneous claims to find causation without any supporting statistical evidence."
CIS claims to prove that immigrants are costly to US tax payers and often cites welfare payments to immigrants. However, both Lopez and Nowrasteh have the same objections to this analysis: it is not statistically sound.
Nowrasteh supports making it easier for immigrants to come to the US legally, but on the issue of Fox News citing CIS he told us: "I'm concerned when anybody uses unsound information or arguments to prove their point."
Lopez was more direct in her criticism of Fox News.
"We're absolutely concerned that Fox News frequently cites CIS, mostly because it's the network that has the ear of the President, and its content is responsible for manufacturing his perception of reality," she said.
"The impact of that on the policies the administration puts out regarding immigration is already in effect: Trump has tweeted out content inspired by CIS appearances on Fox, in his speech rescinding DACA, former AG Jeff Sessions echoed lots of CIS talking points."
"The frequency with which Fox has cited CIS and hosted members of CIS on air has without a doubt contributed to normalize this group's extremism to such an extent that its work helps influence official White House policy without significant push back despite its white nationalist origins."
Lopez believes Fox News is a 'propaganda outlet' and called Tucker Carlson's popular prime time show 'an entire hour of extremism.' But other media are also to blame.
"Mainstream media have actually played a significant role in helping CIS escape its very obvious record of methodological flaws and shoddy research by legitimizing the group by mentioning it or asking it for comment when covering immigration," Lopez told us. "The way they've done that (and we're talking about major newspapers and even the Spanish-language network Univision) has been by reaching out for comment to CIS on statistics or immigration policy aspects, and omitting the context of their insidious anti-immigrant extremism and shoddy research methodologies."
"Over time, this type of coverage leads to normalization. There's this impulse from many legacy media outlets to avoid the manufactured outrage from conservatives crying liberal bias that, in order to cover a topic media feel pressured to offer some mention of 'both sides' to balance coverage out, as if truth needed balance."
Media Matters may approach immigration from a liberal perspective, but the Cato Institute and Alex Nowrasteh do not. Nowrasteh pointed to an article from Pro-Life site The Human Life Review, which condemns CIS for hijacking the immigration debate. It accuses CIS of favoring 'population control' and associates them with abortion.
The article was written by Mario H. Lopez, President of the Hispanic Leadership Fund, which is a center-right Latino advocacy committee, according to its website. Lopez has connections to the Republican Party through former President George W. Bush and Senator Orrin Hatch. He is hardly a liberal.
"CIS is openly terrified of increases in national population and supportive of trends that show a potential decline in population," he wrote, going on to say: "To CIS, seemingly every supposed problem in the world can be solved by decreasing the size of the human population."
The Center for Immigration Studies told us that they provide 'in-depth research and policy to promote a serious and informed debate on immigration' and pointed out they have appeared before Congress more than 100 times, as well as working with various branches of the government.
"The Center is animated by a low-immigration, pro-immigrant vision that seeks fewer immigrants but a warmer welcome for those admitted," a spokesperson said, adding: "[It] sounds like all your sources – SPLC, Cato, Media Matters – are on the other side of the debate and thus have axes to grind" and suggested we were merely writing 'a hit piece'.
Fox News did not respond to a request for comment and CIS did not mention their relationship with Fox in their statement.
With so much criticism of CIS from liberal, conservative and libertarian sources, it may be surprising that Fox News still embraces the Center for Immigration Studies. Cristina Lopez believes the right has become 'a lot more extreme' on immigration and given CIS 'a veneer of legitimacy'.
It is unlikely Fox News will abandon such a reliable source of anti-immigrant arguments, particularly in the current political climate. But so far CIS' controversial nature has largely flown under the public's radar. Their impending lawsuit against the Southern Poverty Law Center could be about to change that.