Giuliani Says Trump May Have Talked To Cohen About Congressional Testimony: 'So What?'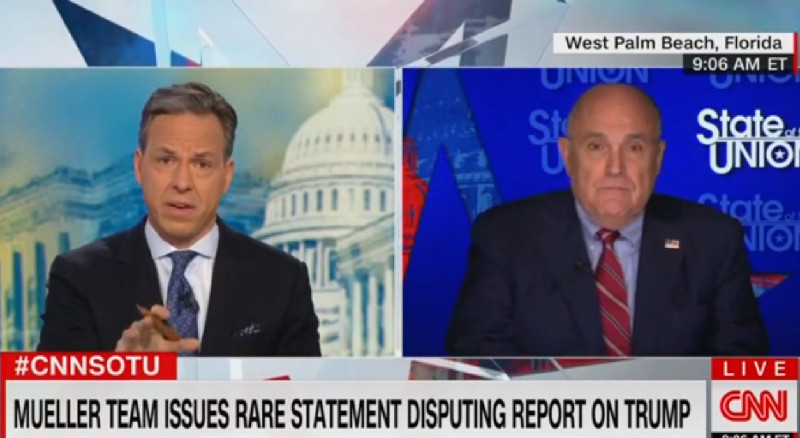 While the president and his MAGA cohorts have been busy spiking the football and shouting "FAKE NEWS" after Special Counsel Robert Mueller's disputed a BuzzFeed report that claims POTUS directed his former attorney to lie to Congress about his involvement in the Moscow Trump Tower project, Trump lawyer Rudy Giuliani said the president may indeed have talked to Michael Cohen about his Congressional testimony.
Appearing on CNN's State of the Union, Giuliani immediately began equivocating when asked by host Jake Tapper if the president ever had a conversation with Cohen about his Congressional testimony. Cohen has already pleaded guilty to lying to Congress about the Moscow Trump Tower project the level of involvement the president had.
"Let me correct the premise of the question," Giuliani said. "The president didn't lie to the American people about it."
The former New York City mayor went on to say that Trump never spoke to anyone in Russia about anything and that this was only an early-stage proposal that included a non-binding letter. He also added that it was Cohen's deal and Trump was more focused on running for president at the time.
After going back and forth with Tapper over the truthfulness of Trump's previous claims that he had no business dealings in Russia during the campaign, Giuliani was asked directly about Cohen's testimony and whether Trump or anyone from Team Trump spoke to Cohen before and after he gave that testimony.
"As far as I know, president Trump did not have discussions with him," Giuliani declared. "Certainly no discussions with him in which he told him or counseled him to lie. If he had any discussions with him, they'd be about the version of the events that Michael Cohen gave them which they all believe was true."
Tapper noted that the ex-mayor had just acknowledged that President Trump may have talked to Cohen about his testimony, causing Giuliani to say that "would be perfectly normal" but that he has "no knowledge that he spoke to him."
"You just acknowledged that President Trump may have talked to him about his testimony," Tapper said a beat later.
"And so what if he talked to him about it?" Giuliani exclaimed.
Later on in the interview, Tapper pushed Giuliani about the length of time Trump was discussing the Moscow Trump Tower project, getting him to confirm that the conversations lasted until at least November 2016.
"He answered those questions fully, and I think to the satisfaction of the special counsel," the Trump lawyer said. "So I'm not at all concerned about that. He gave a full and complete answer. I can't share the whole thing, but I can share the conclusion which is he had conversations with Michael Cohen but it was Michael Cohen driving the project."
Watch the clip above, via CNN.