BuzzFeed Reporter Defends Michael Cohen Story: 'I Have Further Confirmation This Is Right'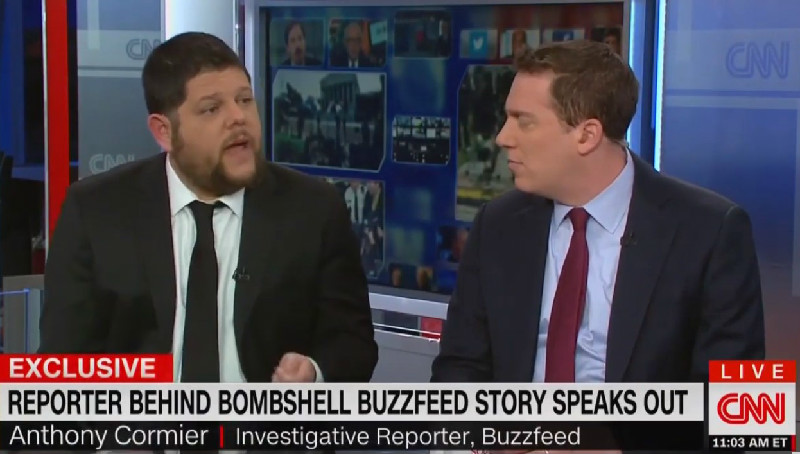 After Special Counsel Robert Mueller disputed parts of the bombshell BuzzFeed story that reported President Donald Trump directed his former attorney Michael Cohen to lie to Congress about his involvement in the Moscow Trump Tower project during the presidential campaign, BuzzFeed report Anthony Cormier and editor-in-chief Ben Smith appeared on CNN's Reliable Sources and stood by their reporting 100 percent.
Towards the beginning of this morning's lengthy interview, Smith noted that Trump lawyer Rudy Giuliani had just appeared on CNN's State of the Union and said that it wasn't a big deal if the president had discussed the Congressional testimony with Cohen. "As we go to on to talk about process, I do want to make sure we also talk about the fundamental core of this story, about a giant construction project in Russia and secret negotiations through the campaign," he further told host Brian Stelter.
After Cormier and Smith added that it is "extraordinary" that Giuliani's story has shifted to "they were probably talking about it" and how that gets at the heart of their reporting, Stelter asked Cormier whether there was "any new evidence since Thursday night that supports your story."
"I have further confirmation this is right and we've been told to stand our ground," Cormier responded. "Our reporting is going to be borne out to be accurate."
Stelter asked him directly who his sources are, something Cormier said he wasn't going to share. "This is an important matter and in order to protect our sources and not put them in any risk, we're not going to talk about the sourcing," Cormier stated.
While Cormier said he wasn't going to talk about sourcing matters or if they had additional sources outside of who they cited in the story, he did point out that the "same sources we used in that story are standing behind it."
Later on in the interview as they talked more about the process behind the story, Cormier unequivocally said the report would turn out to be completely accurate. When Stelter asked him what he'd do if the sources are wrong, Cormier answered: "They're not. They're not. I'm confident."
On today's @ReliableSources, @a_cormier_ says BuzzFeed's Michael Cohen story is "going to be borne out" and is "accurate."

"What if the sources are just wrong?" @brianstelter asks.

"They're not. They're not. I'm confident." Cormier responds. pic.twitter.com/ki9sphyXmZ

— Justin Baragona (@justinbaragona) January 20, 2019
Watch the clip above, via CNN.