Morning Joe Guest: US Found Out What Trump Said To Putin By Intercepting Russian Cables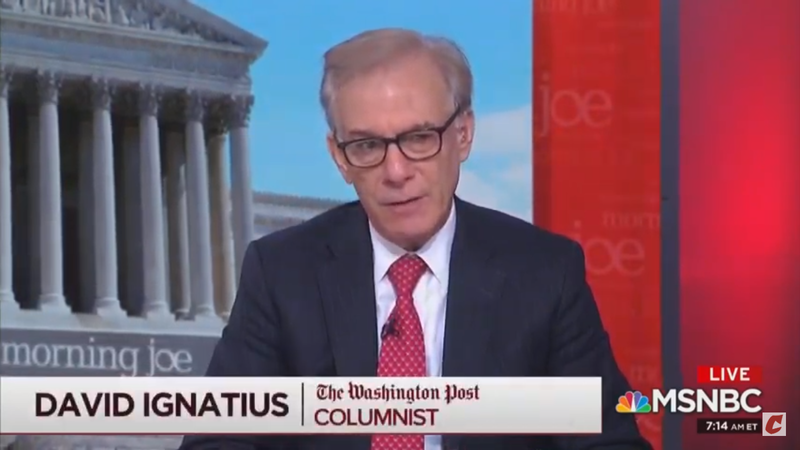 President Donald Trump's secret meeting with Russian President Vladimir Putin in Helsinki, and other such meetings, dominated much of the news cycle Monday morning as news reporters and guests tried to piece together what happened between the two men. On MSBNC, Washington Post columnist David Ignatius offered some insight.
The Morning Joe panel was discussing the fact that Trump took an interpreter's notes following his meetings with Putin, apparently in an attempt to conceal the contents of conversations from his officials. The panel watched a clip of Trump failing to answer a direct question from Fox News' Jeanine Pirro about whether he had ever worked for Russia.
"We saw twice there in the interview with a friendly person that the President wouldn't answer the question asked and in fact answered a different question," Morning Joe regular Willie Geist said. "But I'm really curious. The Putin meeting in Helsinki – two hours. That's a long time. I haven't had a great many two hour meetings with anybody in my entire life, I don't think. What could possibly unfold in an innocent way over a two hour meeting with a foreign head of state like that?"
"And why wouldn't you talk about it?" the Washington Post's David Ignatius said. "A meeting like that requires detailed notes so that you can implement what was decided. With Judge Jeanine, the correct answer to the question is 'No'. It's not a complicated problem, that one."
"After the Helsinki meeting, I know from my conversations with government officials that they were desperately trying to find out what happened so that they could act on it, people at the Pentagon, our top military commanders. What was discussed? What was decided?" Ignatius said.
"And in the end one source of information, believe it or not, was our intelligence agencies capturing Russian descriptions of what was discussed in cables to their ambassadors and this and that. That's how people ended up finding out what happened. That is completely – unprecedented is the only word."
"So the Russians knew the whole thing but our government did not?" Geist asked.
"The Russians had their translator, their people, and our senior officials were desperately trying, using Russian exchanges, to piece together what their President had discussed," Ignatius concluded.
Watch the video above, via MSNBC.